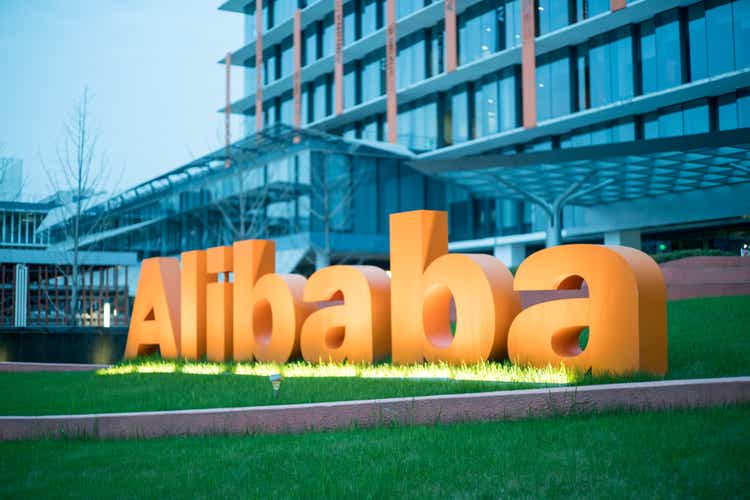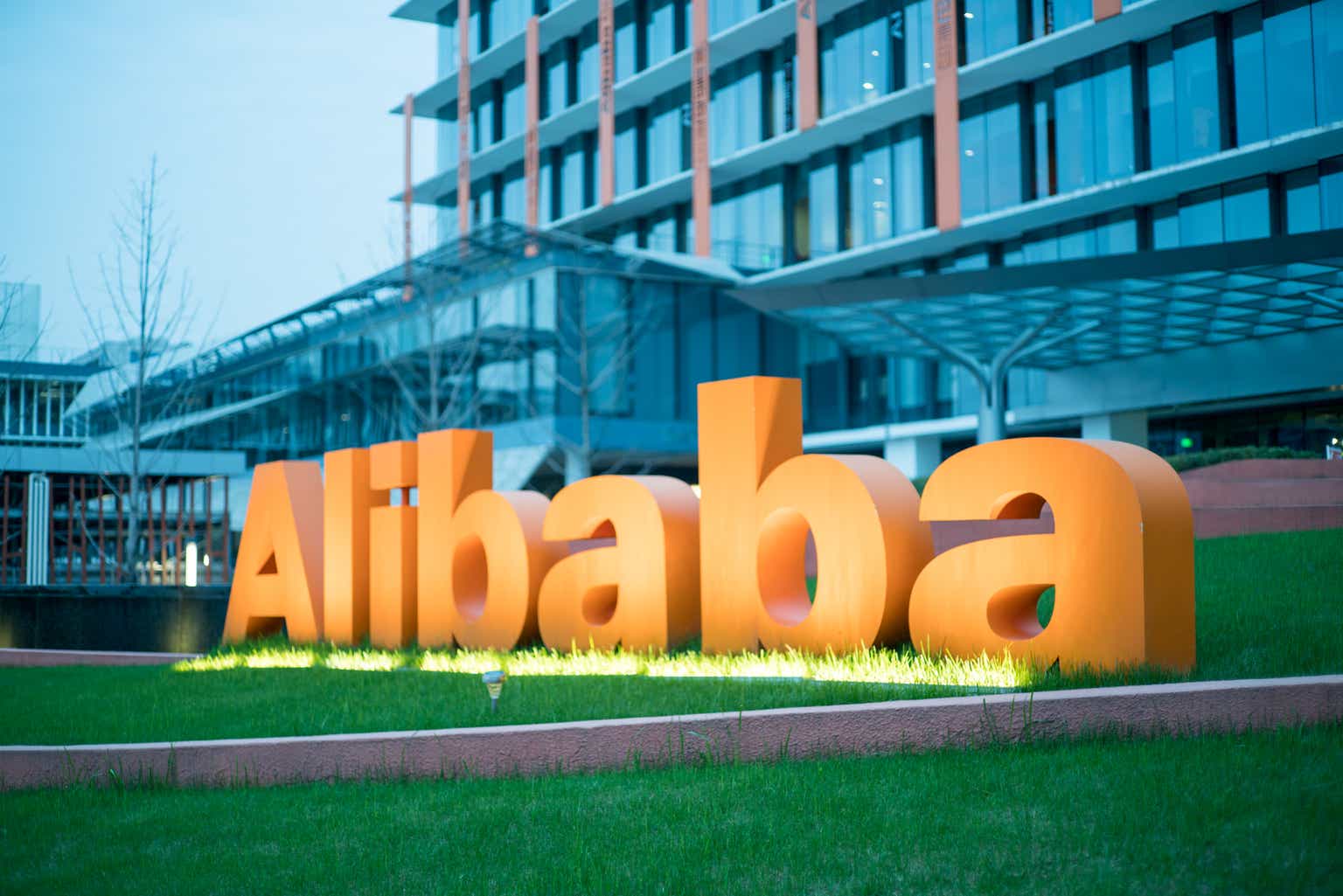 Alibaba's (BABA) shares are down 50% in the last 6 months and contrarian bulls are now wondering if this is a good time to buy. Bulls argue that the stock is grossly undervalued, its delisting risk is exaggerated and that the company's Hong Kong-listed shares will shield them from the delisting risk in the US. While I appreciate the zeal behind the contrarian investment thesis, I'll argue again that the stock is likely to fall further and that investors should avoid the name for the time being at least. Let's take a closer look at it all.
Its Auditor's Role
Let me start by saying that the SEC has been making steady progress since 2020 towards requiring foreign companies to open up to audit inspections, or get delisted from US bourses. The general rationale for such a stance is that if foreign companies are tapping US capital markets, they should also be audited and inspected like all the other domestic companies listed in the US. This would reassure US investors that their foreign investment is less likely to be an accounting scandal.
I've actually been warning investors about the severity of this delisting threat for the past 9 months and suggesting investors to exit their long positions in Alibaba. Interestingly, the stock has collapsed 50% since then but I've been constantly chided for issuing the warning. One of the recurring arguments has been that Alibaba has tapped a renowned auditing firm – PricewaterhouseCoopers – which implies that its books ought to be in order, the company will gladly comply with US regulators and that its shares will not be delisted in the US.
Fast forward to last week and the SEC took a step further. It provisionally named 5 Chinese companies – BeiGene (NASDAQ: BGNE)Yum China (NYSE: YUMC)Zai Lab (NASDAQ: ZLAB)ACM Research (NASDAQ: ACMR)Hutchmed (NASDAQ: HCM)– that do not meet the audit requirements and could be delisted. This makes Alibaba's prospects even murkier for a number of two reasons.
First, it signals that US regulators aren't playing power games with China and that they're actually serious about delisting non-compliant foreign companies such as Alibaba. There's another factor that nobody, at least to the best of my knowledge, seems to be discussing. It's that having a renowned auditor is not necessarily enough to shield Alibaba and its investors from the delisting risk.
I say this because most of these 5 companies that the SEC has named in its provisional list, have globally reputed firms as their auditors. This begs the question – if these firms can face a potential delisting in spite of having globally reputed auditors, why can Alibaba get delisted as well? This goes straight up against the commonly held belief, that Alibaba is safe from a potential delisting in the US because it has PricewaterhouseCoopers as its auditor.

Also, it's not necessarily up to Alibaba or its auditor to comply with US regulators. The company disclosed in its latest 20-F filing that it's the Chinese government that has to permit such audit inspections. From their filing:
PricewaterhouseCoopers, our auditor, is required under US law to undergo regular inspections by the PCAOB. However, without approval from the Chinese government authorities, the PCAOB is currently unable to conduct inspections of the audit work and practices of PCAOB-registered audit firms within the PRC on a basis comparable to other non-US jurisdictions. Since we have substantial operations in the PRC, our auditor and its audit work are currently not fully inspected by the PCAOB, and as such, investors of our ADSs, Shares and / or other securities do not have the benefit of such inspections.
All of this essentially suggests that investors should not underestimate Alibaba's delisting risk just because its audited by one of the Big Four firms.
The Hong Kong Connection
Many investors are now considering investing in, or converting their existing US-listed Alibaba's shares to, Alibaba's Hong Kong-listed shares. The rationale is that Alibaba's Hong Kong-listed shares will not have the overhang caused by US regulators and they offer all the goodness involved with the company's growth story. The general belief is that Alibaba's Hong Kong-listed shares offer superior returns and / or offer a safer way to invest in the company.
But that's not exactly how things are panning out.
Let's look at the 3-month stock price returns for all the aforementioned companies, across their US and Hong Kong listings. The commonality here is that these securities have continued to plummet in value over the last 3 months, regardless of their listing country.

This indicates that US and Hong Kong-listed shares of the said companies, are highly correlated. If one security was better than the other, then they would've traded differently and we would not have seen such high levels of correlation. Interestingly, Hutchmed's Hong Kong-listed shares have declined more in value than its US-listed shares.
All this suggests that Hong Kong-listed shares aren't all that safer or better than their comparable securities listed on US stock exchanges. So, it does not make much financial sense to invest in Hong Kong-listed shares of non-compliant foreign companies, to skirt the delisting risk in the US.
Value Misconception
Lastly, Alibaba's shares have plummeted 50% in the last 6 months and 30% in the last 3 months. This crash has encouraged investors to think that the e-commerce giant's shares are undervalued and they're an attractive buy at current levels. But that's not quite the case. Alibaba's shares do not come across as undervalued when we compare them with other industry peers.
Let's look at the chart below to put things in perspective. The Y-axis highlights the revenue growth rates for over 25 different internet retail stocks listed in the US. Note how Alibaba is vertically positioned right in the middle, indicating that its revenue growth rate is more or less at par with its industry peers. Now, let's shift attention to the X-axis, which plots the Price-to-Sales (or P / S) multiples for the same set of companies. Note how Alibaba is horizontally positioned slightly towards the right.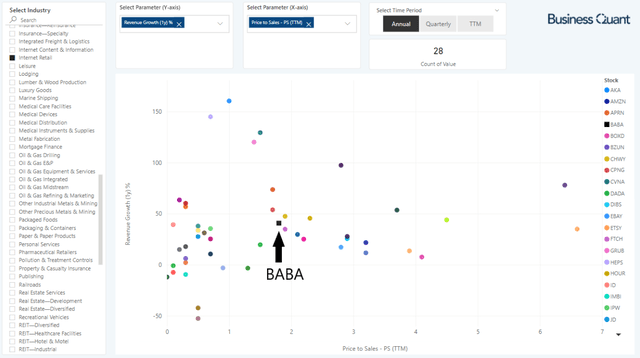 The collective takeaway from both the axes here is that Alibaba has an average revenue growth rate and its shares are valued slightly higher than a broad swath of its peers. This makes its shares seem fairly valued, rather than undervalued. On the other hand, there are companies that are positioned in the top-left corner of the chart. These companies are posting revenue growth rates higher than Alibaba, they do not involve the delisting risk and yet their shares are trading at lower P / S multiples. This makes them far more lucrative and undervalued buying opportunities when compared to Alibaba.
Investors Takeaway
There's no denying that Alibaba, as a company, has grown manifold over the past decade. It has recorded rapid revenue growth across all of its reportable segments, which is a commendable feat on its management's part and an enviable position to be in.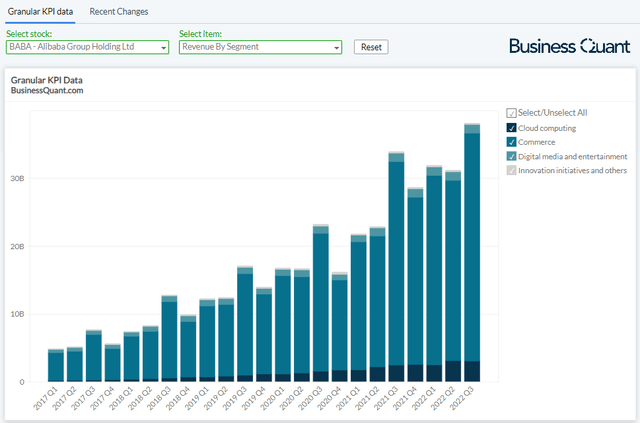 Having said that, good companies do not always make for good investments. Alibaba's US-listed shares are faced with a very real delisting risk that did not exist till about a year ago, and yet the stock is more or less valued at par with its peers. This should encourage investors to rethink their investment thesis for Alibaba and avoid it for the time being at least. Good Luck!