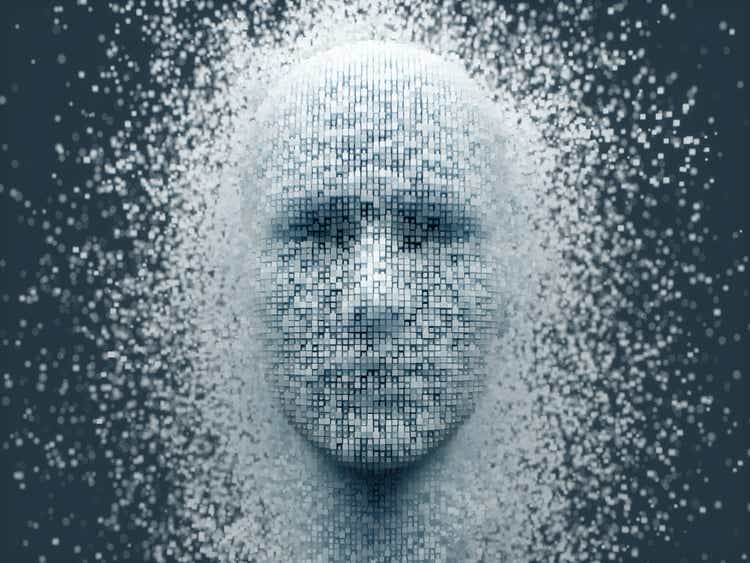 Written by Nick Ackerman, co-produced by Stanford Chemist
Virtus AllianzGI Artificial Intelligence & Technology Opportunities Fund (AIO) has not escaped from the tech sell-off that its peers are also suffering from. That being said, they have limited some of the downsides, presumably from their convertible bond exposure and since their portfolio is more diversified overall. At this time, the fund is at an attractive discount. Combining that with the overall shift away from growth might be presenting an opportunity to pick up some shares.
Convertible bonds, as some readers might be aware, have characteristics of both stocks and bonds. The pricing of the convertible bond will more closely resemble the movement of the underlying stock. As the common equity rises or falls, the convertible feature becomes more or less valuable.
At the same time, there is a floor to the declines at a certain point as par can be returned to investors if the conversion does not make sense at maturity. In addition to that, they can collect some yield. Though they are generally lower yielding than alternative forms of debt due to the added bonus of potential conversion.
The Basics
1-Year Z-score: 0.49
Discount: 5.62%
Distribution Yield: 7.88%
Expense Ratio: 1.41%
Leverage: 3.49%
Managed Assets: $ 860.48 million
Structure: Term (12th year, expected October 29th, 2031)
AIO focused on generating "a stable income stream and growth of capital by focusing on one of the most significant long-term secular growth opportunities in markets today." They will do this by investing "in a growing universe of opportunities across a broad spectrum of technologies and sectors embracing the disruptive power of artificial intelligence and other new technologies."
With a "… dynamically allocating to attractive segments of a company's debt and equity in order to offer an attractive risk / reward profile." That leaves AIO incredibly flexible to invest across assets into this market segment. That is what sets this fund apart from CEF tech-focused peers.
The fund has only a low amount of leverage; they last reported they only have $ 30 million in short-term loans. Due to the type of assets they invest in, this is quite common as this market area can be volatile enough.
The fund's expense ratio is higher, which is another common feature of these types of funds. When including leverage expenses, it comes to 1.5%. The weighted average interest rate comes to 0.86%. This is below their maximum capital commitment amount of $ 75 million; "Interest on amounts drawn under each MMLA is charged at a daily rate, and a commitment fee is paid on the undrawn amounts as agreed to in the MMLA."
Performance – Tough Start To 2022
As is the case with most investments, the start of 2022 has not been too kind. In particular, the tech and innovation space was getting hit the hardest. Looking at a couple of peers relative to AIO, we can see that AIO has held up a bit better so far.
I included both BlackRock Science and Technology Trust (BST) and Columbia Seligman Premium Technology Growth Fund (STK) in the chart below. These funds aren't exactly great matches since AIO is rather unique, but they can give us some context.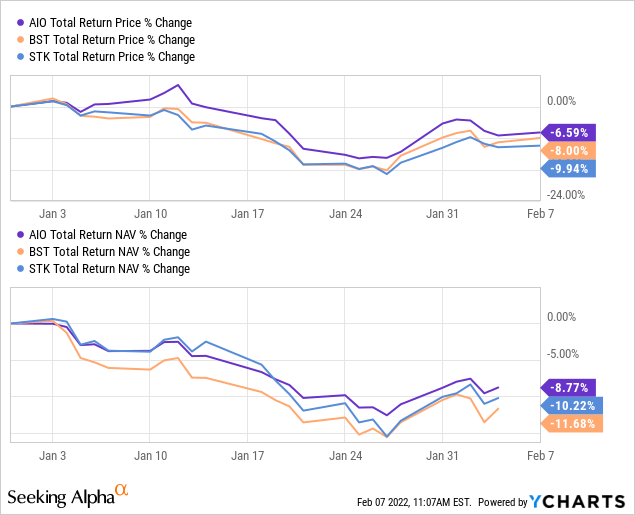 We can not brag that the fund is down almost 9% on a total NAV return basis YTD, but we can see how it performed relative to these peers. AIO's small amount of leverage should be factored in as well. Both BST and STK have an options strategy as their main focus rather than including any leverage.
What makes AIO look worse if we are just looking at a chart is the fund's large year-end special that they paid.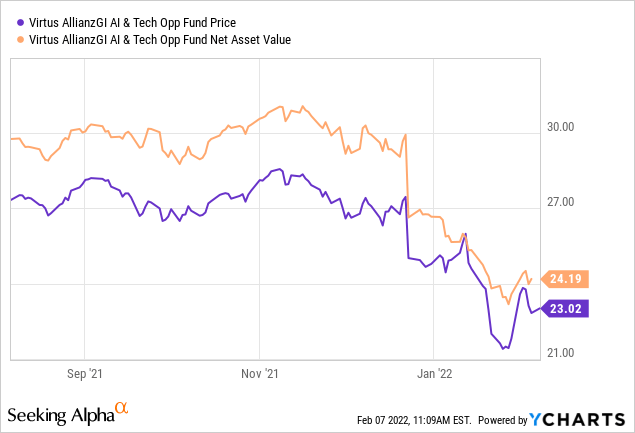 On December 23rd, the stock was adjusted by the $ 3.4497 special.
The fund has often traded at some deep discounts, so the latest discount might not be too appealing at first. I think the combination of the latest declines and the discount makes the fund attractive at this time. We can also see just how volatile the premium / discount has been lately due to the fund's large year-end. That seemed to have possibly added some confusion of what might have been going on.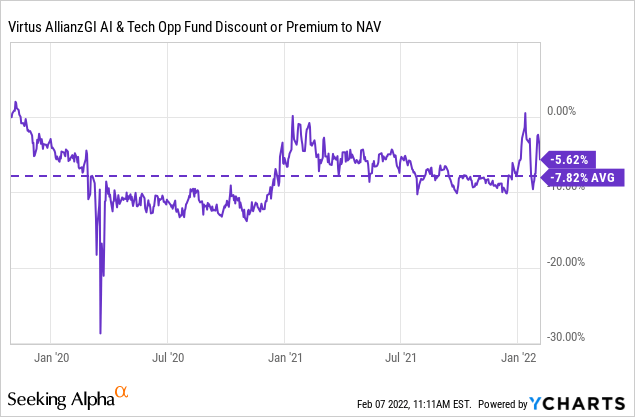 Distribution – Recent Boost
Along with the fund's year-end that they paid, the fund also declared an increase in their regular monthly distribution. It went from $ 0.125 to $ 0.15. This also happened at the beginning of 2021 as well. They paid a year-end at the end of 2020 and then increased their regular distribution. The fund currently has a distribution rate of 7.88%. On a NAV basis, this works out to 7.44%.
Unfortunately, it seems they have boosted at a questionable time if the fund will be struggling through 2022 due to higher interest rate concerns. I do not believe they will cut it any time soon after just raising it, but it could erode some NAV this year if we do not get a turnaround.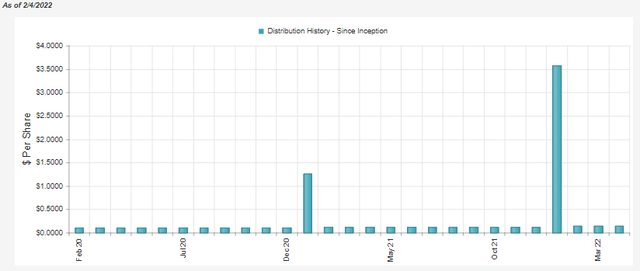 One of the reasons why the fund would need a turnaround to cover its distribution is because it relies entirely on capital gains to fund the payout. This isn't uncommon for tech-related funds either. Since the underlying holdings do not pay dividends or only small ones, that means no net investment income leftover for shareholders of these funds.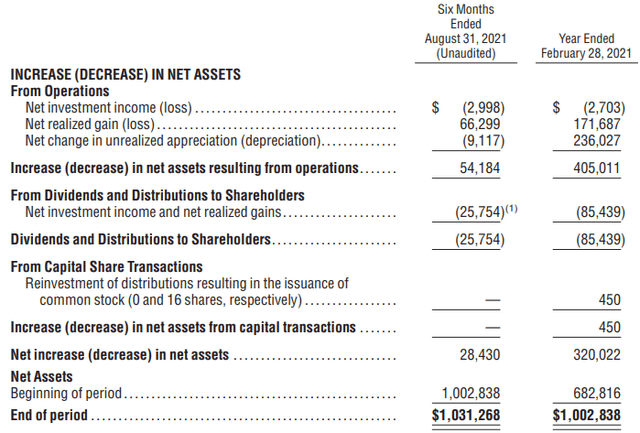 AIO's Portfolio
AIO is pretty active. In the last 6-month report, they had a turnover of 31%. In fiscal 2021, they reported a whopping 103% turnover rate. That means they essentially turned over their entire portfolio. However, that does not mean that everything in the portfolio has changed from a year ago. They can buy and sell the same pair of securities repeatedly to generate turnover.
The portfolio breakdown of their portfolio in terms of the type of assets has convertibles as the largest exposure. That being said, the common equity sleeve is almost equally as important for this fund. That gives is the multi-asset or hybrid approach that is more unique about this fund. They also have some high yield bond exposure, but at 3.16% isn't going to make or break the fund.

That being said, they have been gearing more towards convertible securities since we last touched on the fund. In the middle of 2021, they reported an almost equal split between equities and convertibles at 48.71% and 48.56%, respectively. One of the reasons for this shift could be the fact that the common equities fell further relative to the convertible. It could also simply be that they made a conscious shift towards including convertibles.
From there, we can quickly touch on the fund's credit quality breakdown. The most notable weighting here is almost 90% in the "not rated" category. This might be a shock at first. However, it is due to the fact that convertibles often aren't rated when they are issued. They are bought and sold by qualified institutional buyers. Therefore, they save the time and costs associated with getting rated, and the buyers do their own analysis.
The sector allocation of the fund has the largest weighting to tech. This is not too shocking given the fund's name. In fact, it might be more surprising that tech is only around 50% of the fund. That's because innovation and AI capabilities can occur in any sector, which we will see when looking at the fund's top ten how diverse the fund really can be.

The most significant position in the fund has remained the same; it's Microsoft (MSFT). Definitely not a bad position to be in as they have been firing on all cylinders. The weighting of this one position has moved up from our previous coverage as well.

From there, we have several noteworthy positions. These are the types of positions that I believe are making AIO hold up better than its peers. That includes UnitedHealth Group (UNH), Deere & Co (DE) and Morgan Stanley (MS). One might not consider these types of names to be in a tech-focused fund. That being said, one might be surprised just how much AI these types of holdings are implementing.
Optum, a part of UNH, has been incorporating machine learning into patients' health care — looking for ways to predict which patients might get sick before they are sick. Identifying individuals beforehand can get them help before it becomes a more severe problem. This comes with the tons and tons and tons of data that UNH collects to look for patterns.
The way DE is using AI might seem fairly obvious. We are looking for autonomous tractors that can do the hard work for us. That would free up farmers to do more productive tasks than driving a tractor around all day. Once again, DE is a massive company that collects a ton of data that they can put to work. They are also creating robots to spray herbicides automatically. In this way, farmers aren't just pouring chemicals everywhere but targeting precisely where weeds need to be killed. This can save tons of costs.
MS can be another case where machine learning AI makes a lot of sense. As we all know, the market is constantly changing every day. MS AI can take advantage of collecting all this data and trying to inform what could come next given a particular situation. Not only that but utilizing virtual assistants, which can sometimes be frustrating to use – but should improve as time goes on.
As we can see, these companies might not seem to fit into an "AI and tech" fund, but they most certainly do.
Conclusion
AIO is a unique fund in the tech space and provides a clearly different approach from BlackRock or Columbia Seligman. That does not make it better or worse; it just provides investors with a differentiated choice. Due to the recent decline in tech and innovation, AIO has taken a hit. Though do not be fooled by the fund's sizeable year-end distribution that might make it look even worse than it is. Combining the latest declines and the fund's deepening discount makes AIO an attractive fund at this time.