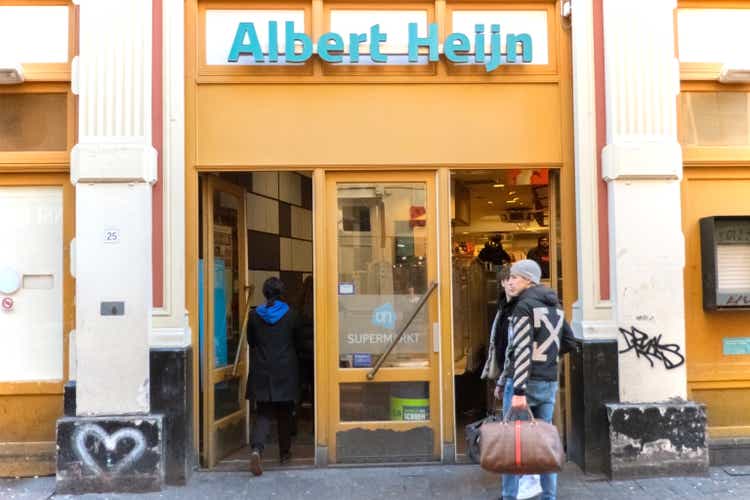 Note to readers: This article is an edited version of a longer article originally posted on iREIT on Alpha on the 14th of February.
Dear Readers,
Doing the research for Ahold Delhaize (OTCQX:ADRNY) was actually a great deal of fun. I like grocers/FMCGs, and this company is a great one, from an appealing country. The company's full name is Koninklijke Ahold Delhaize N.V. – and in this article, I'm going to show you the nuts and bolts of this business, and how it can be a "BUY" at today's valuation.
Let's get going!

The Fundamentals Of Ahold Delhaize
You all know my love for grocers, consumer defensives, and everything that comes along with it. I love the utilities that power their stores. I love the real estate/REITs that offer their spaces. I love the companies themselves for the type of absolute necessity they provide to their respective populations.
Investing in something like conservative grocers is one of the safest investments possible in the entire world. That's why I own large stakes in Nestlé (OTCPK:NSRGY), Axfood (OTCPK:AXFOF), Unilever (UL), Diageo (DEO), Kesko (OTCPK:KKOYF), Europris (OTC:ERPSY), Kroger (KR), Carrefour (OTCPK:CRRFY), and other companies. If it's a business selling foo and it's doing so profitably, I'm interested.
Consumer defensive will rarely make you "rich". No, what they will do is offer you a solid sort of conservative return, a decent sort of yield, and above all, safety. Even the most pressured of them will rarely go "bankrupt" in any way.
Ahold Delhaize is no different.
But just what is this odd-sounding company?
The company was formed in 2016 by merging Ahold and Delhaize. The Delhaize group itself dates back to 1867, and Ahold back in 1887, so these companies are quite old.
Ahold Delhaize is a company with a market cap of €32B. It has over €70B in revenues and is rated BBB+ by rating agencies (Fitch). Its 2020 yield on the current share price is 3.1%, putting it at the mid-point on a European-wide comparative scale.
Some may think this company is just a Netherlands grocer. It is not. Ahold Delhaize owns a massive variety of chains, brands, and stores across the entire world.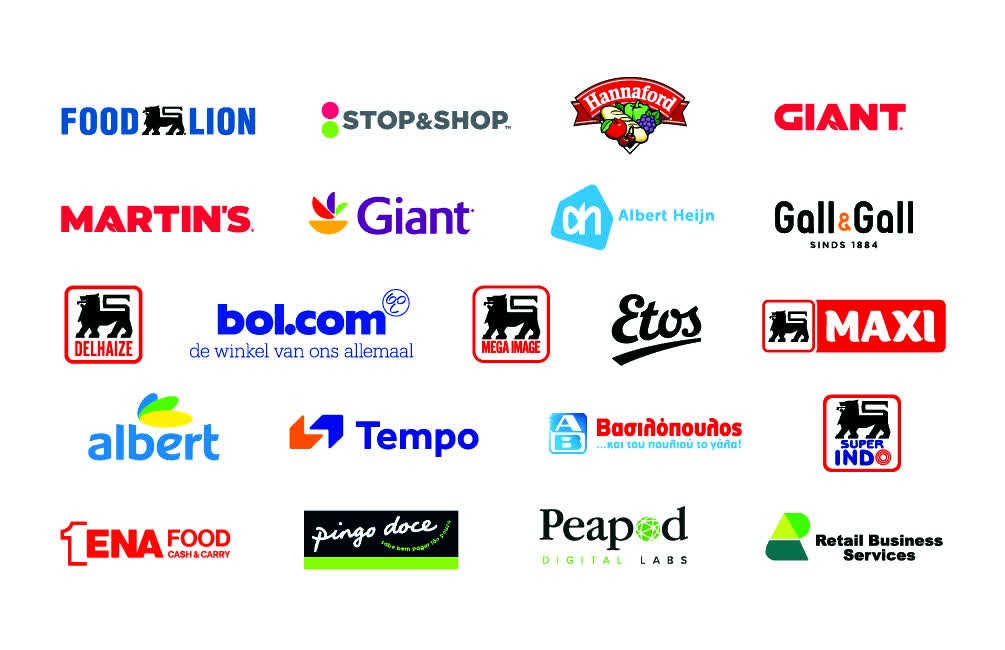 Its nations of operation include Belgium, Netherlands, Serbia, Romania, Portugal, Luxembourg, Indonesia, Czech Republic, Greece, and the US. So it has European/Eastern European, Asian, and NA exposure.
In the US, it owns chains such as Food Lion, Martins, Giant, Giant Food, Hannaford, Stop & Shop, Peapod, Bfresh, Eastside marketplace, and FreshDirect.
Its upsides are very clear. Ahold Delhaize is the second-highest (at least) grocer in all of their operating countries, with the exception of the USA.
Unlike almost all its peers, except Swedish Axfood and others which operate in a wildly different competitive landscape, Ahold Delhaize has not been suffering significant margin compression due to intensifying competition. It is in the enviable position of a gross margin of above 25%, and it manages Scandinavian-type operating margins above 4-5% for an industry that's usually lucky to scrape by with 2-3%.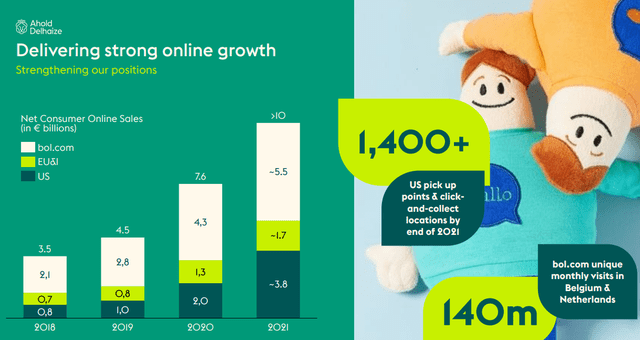 In addition to this, Ahold Delhaize has been successful in many of its growth ambitions, which include digital and online sales through e-commerce, including in non-food areas. Bol.com is a good example of this, which has been able to actually seriously compete with something like Amazon (AMZN).
Ahold Delhaize is a successful, well-managed and profitable, above-peer operation with exactly the sort of earnings, share price, and valuation stability you might expect and want in a grocer.

The company has delivered stable, triple-digit RoR and market-similar RoR at 7% annually. These fundamentals should at least start to explain to you exactly why I consider this business to be appealing.
Ahold Delhaize is the fourth-largest retail business on the planet since its formation. Its geographical exposure is surprisingly US-centric, with over 60% of combined sales coming from NA. In the USA, the company competes with Walmart (NYSE:WMT), Target (NYSE:TGT), and Kroger. In Europe, its market dominance is assured in Belgium, Greece, Serbia, the Netherlands, and the Czech republic.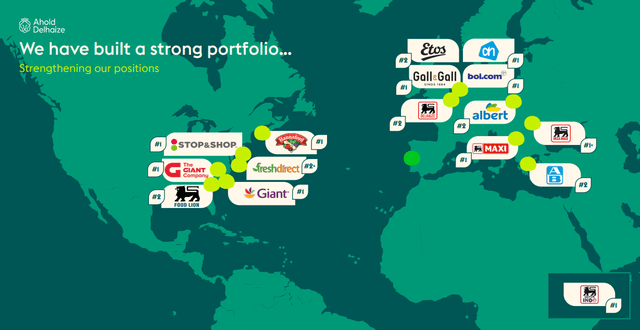 On a high level, this means that the structure to a large degree hinges on the success of the US, then the EU business. FX exposure is around 62% to USD and 38% to EUR.
In addition to legacy areas, the company has expanded to online areas. This includes the aforementioned Bol.com, but also online grocer Peapod. Most of the brands are rolling out online, including Hannaford and others.
Advantages that come with Ahold Delhaize, as opposed to Walmart is the competence not only in the Hypermarket sector but in the small format, which was previously a Delhaize focus. The company operates both giant supermarkets, as well as small-format corner discount stores.
The ambition is cost-cutting by pushing private as opposed to premium non-store labels. The company already sells more than €20B worth of their own products manually, with an own-brand US penetration of almost 40%.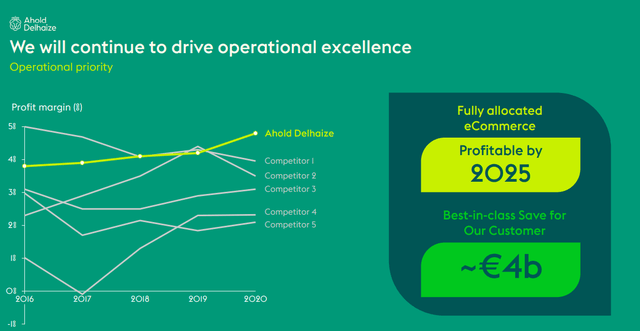 As a result of the merger, operating margins have improved to class-leading/sector-leading sort of levels above 5%, with ROCE above 8%. US hypermarket peers are the direct peers here, with historical ROCE as high as 14-16%. Synergies, thanks to the merger, have come to the tune of almost €500M over the course of 3-4 years. Ahold Delhaize has improved bargaining power and pricing opportunities thanks to being a larger player on the field here.
Overall, the last years have really shown that Ahold Delhaize is able to cost-cut while keeping its margins at impressively high levels. Execution has been absolutely solid here. It's not as though the company's peers haven't felt similar pressure to Ahold Delhaize here. I've reported almost identical trends from Carrefour as well as Scandinavian retailers.
It's a hard environment to be in – and it seems that economies of scale are one of the core reasons for survival/thriving here.
At the same time, it's important to note that 2021 was an absolute dream year for Ahold Delhaize, as well as most European grocers. We've seen stock price increases of 20-50% in less than a year, in the case of AD due to solid organic earnings growth, even when compared to pre-pandemic levels.
AD management is well-aligned with shareholder interests. Cash generation has historically been used for buybacks, dividends, and M&As for the last few years. It has also been able to significantly reduce its debt, to where it stands at about €12B as of 2020 and expected at €11.5B this year. The expectation is for the net debt/EBITDA to drop below 2X by 2020.
In short, the debt situation is well in hand, and the expectation is for a sub-€9B debt by 2023E.
The problem is when we look at where the valuation for the company has gone, it's actually gone quite high. It's fair to say that there might be some steam left to the stock – but not much, based on conservative historicals and forecasts.
The arguments for Ahold Delhaize still being interesting are clear, and at a decided difference to French operator Carrefour – its quality. Unlike Carrefour and some of the French/Spanish peers, AD has never really faced crippling issues like the ones we've seen in the south. AD has a best-in-class RoE at 15% versus 11% for the sector and an excellent overall balance sheet.
Quality. Its yield is above that of many despite its valuation. Forecasts are calling for stable sort of sales, even if increases are likely to be minimal here.
Does that mean that this makes AD an investable business regardless here?
Well, let's look at risks.
Risks With Ahold Delhaize
They exist – as they always do.
The most obvious one is the post-pandemic shopping trends. AD has seen an almost ridiculous-level worth of shopping growth due to pandemic inflated sales, as people aren't eating out or doing much of anything. With the easing of pandemic restrictions, which haven't happened full-out in many of the company's key geographies yet. This normalization will at the very least weigh/drag down further sales growth.
The second risk which I would say is obvious, but requires clarification is the near-constant state of warfare between AD and its peers, both on European and American soil. Threats from German uninvestable grocers Aldi and Lidl are massive. Aldi already has 2,000+ stores in the USA and is becoming the third-largest grocer in the US, and Lidl is targeting the East Coast with a store expansion that's the equivalent to full warfare with Ahold Delhaize. A stronger Walmart, pushing into certain US geographies, is always a threat as well.
That's risk two. Both of these risks aren't unknowns or company-specific. They're a risk to every grocer.
Let's dig deeper and really get everything out in the open here.
Let's talk Peapod/E-commerce. While the company's foray into E-commerce has been relatively successful, comparing it to Amazon or other established E-grocers in the US is not something that can be done. Peapod was, unfortunately, a late bloomer, and suffered from fairly basic technical harmonization constraints between physical store/online offers. While Bol is working very well, some of the company's other E-commerce pushes are not going as well.
Furthermore, some of its legacy grocery markets are in a precarious position of losing YoY market share. Belgium is one. Greece is another. These things are also risks that need addressing.
If you find yourself thinking, 'well, that's not really that much.' – it's because there really isn't that much in terms of crippling/deteriorating risk to this business. That's why Ahold Delhaize is allowed such a premium, and we talk about capable management and excellent execution.
The company is, simply put, doing very well.
Let's dig into that valuation for Ahold Delhaize.
The Company's Valuation
The upside of a qualitative grocery incumbent is clear – they're going to continue to perform well. There is very little reason or cause from any one sector, geography, or source to expect that Ahold Delhaize will suffer any sort of debilitating event that would destroy its profits or its valuation. The company's European-relevant peer group is obvious – Tesco (OTCQX:TSCDY), Axfood, Carrefour, Sainsbury, Colryut, Casino (OTCPK:CGUIF), and similar companies. The valuation for these peers is surprisingly volatile – but this is because many of the companies I mentioned (not Axfood) are suffering or facing increased competition not seen by AD.
The peer average for this segment is around 14-15X in P/E and around 6X in EV/EBITDA. In terms of yield and P/E, Ahold is at a discount – in terms of EV/EBITDA and P/book multiples, it's not really at any one type of discount here.
This tracks if you consider the company's recent performance. AD cannot be legitimately called "cheap" here, unfortunately. The company has been on a veritable tear, and while this was from relatively low valuations, most methods of calculating upside show us a smaller potential upward trajectory than we see in other companies.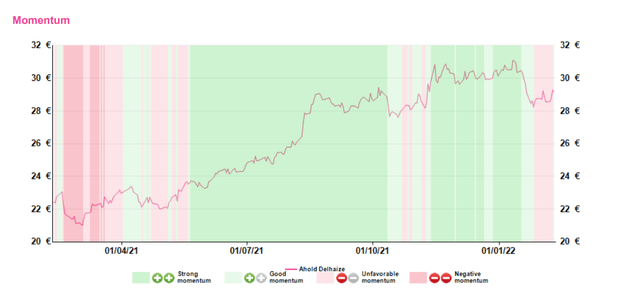 DCF is a favorite here. Assuming a conservative approach of no premium despite the company's overall quality, and a conservative cash flow growth rate within the ranges of GDP growth (no more than 2%), we can even include a 3-4% CapEx/sales ratio to account for some of the e-commerce related investments that the company might be forced to do. Even under these circumstances, with a WACC of 6.135%, we find an implied equity value of almost €38-43/share, depending on your variables. There is a bit too much optimism here, but discounting it more in any way does not make sense for the company's actual reported numbers, debt, or cash flows. Instead, I'm going to weigh NAV, EV/EBTIDA, and book valuations somewhat higher, which will bring this average valuation down quite a bit.
I end up at an aggregate valuation of €34.5/share, but I confess that there is a lot of volatility to this target, due to the varying implications depending on what method you're using. When this happens, and when methods diverge so wildly, it's clear that there are uncertainties. I know, of course, why certain methods show certain results (provisions, debt, growth estimates, etc), but in the end, the clarity for AD beyond "stability" is poor.
But stability? You can have that, investing here. This stock grows like a bond and moves less even than some stable majors. Its 1-year beta is 0.22X, and its 3-year beta, the highest, is only 0.55X, which implies very low volatility for the equity.
That's some valuation trends for AD at this time.
Putting It All Together – Ahold Delhaize Is A "BUY"
On a high level, AD faces a lot of fundamental challenges. Amazon and e-commerce risks/the competitive landscape are no small factors and can start compressing the companies margins over time as the battle for Europe's, and America's customers continue.
However, AD has been holding its own and winning this battle, if we view it in terms of margins, dividends, and ROCE. It has experienced management, a well-diversified set of appealing assets and brands, and it has the sort of history you'd want out of a good investment. I would say that AD is a good example that Amazon is not winning everywhere it goes. The US giant unleashed a pricing war since 2020 in the Benelux region, where Ahold Delhaize has its home.
For frequently sold products such as electro and toys, amazon.nl is 7 to 9 percent cheaper than bol.com and MediaMarkt, 15 percent cheaper than Wehkamp and 18 percent cheaper than Coolblue.

(Source: RetailDetail)
However, the implications of this are not immediately clear. Neither Bol nor Amazon discloses the numbers, I would need to determine whether market share has been gained or lost. What we can see is visitors – and Amazon sees "similar" levels of customers to Bol.
Another thing that might happen, and something I have been following is that AD may pivot here and actually spin-off Bol in a deal worth €5.5B – but only a small number of shares, as it's not looking to leave the space. Bol is still the market leader over Amazon in its home nation.
"Both Bol and Amazon in the Dutch market gained share, but the gap we had ahead of Amazon has not changed over time," he added, without providing exact numbers.

(Source: Reuters, CEO Frans Muller)
As I implied – there is a lot to like about Ahold Delhaize. That's why I'm going to initiate a position in the company starting the 14th of February. While at today's valuation, I see most of the upside to be gone, I see growth and stability potential, which rivals almost none in Europe.
I'm a "BUY" here. My target is €34.5, and I'm adding – but I don't think you should expect anything but market-like development with a beta/volatility lower than the market.
Interested? Then go on a shopping trip!
Questions? Let me know!