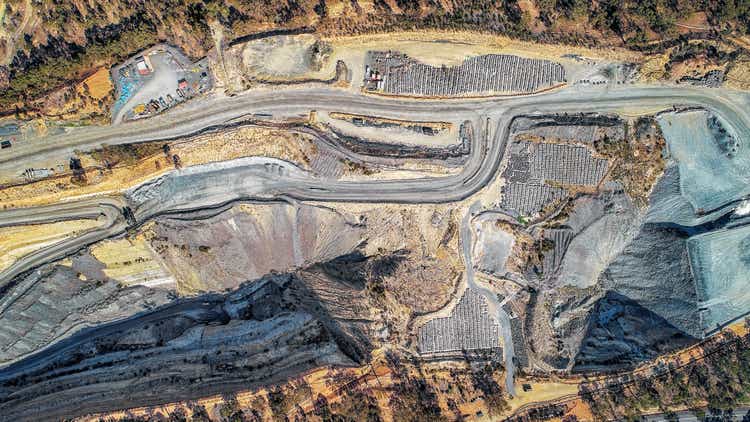 2021 was a year to forget for investors in the precious metals space, with the Gold Miners Index (GDX) sliding 10%, giving back a chunk of its 2020 advance. Unfortunately, 2022 hasn't been much better, given that the Gold Miners Index has once again found itself in negative territory. This has prolonged what's already been a violent 18-month bear market, with many names down as much as 50%. However, it's in these periods of despair that it's the best time to deploy capital, and one name that continues to trade at fire-sale prices is Agnico Eagle Mines (AEM).
Agnico Eagle recently completed its planned merger with Kirkland Lake Gold (KL), creating one of the world's largest gold producers. With a few multi-million-ounce producers already available to choose from, some investors might be wondering why Agnico Eagle stands out. In my view, the company has multiple key differentiators, with two that truly break the mold of the traditional multi-million-ounce producer. Given the company's attractive attributes, I see the stock as a steal at current levels below $48.00.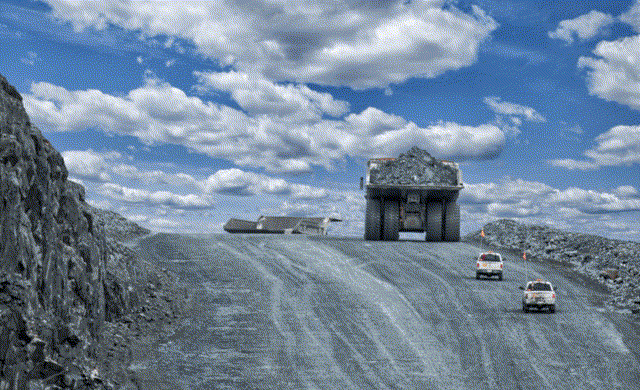 Over the past few years, it's been difficult to invest in the 3.0+ million-ounce producer space unless one was content with minimal to moderate reserve depletion and anemic long-term production growth rates. This is because while Barrick (GOLD) and Newmont (NEM) have done an excellent job replacing reserves for the most part and maintaining their production profiles, it's been hard to get much growth out of these two companies.
The mergers/acquisitions with Randgold/Goldcorp certainly helped to provide a boost, as did the marriage in Nevada (Nevada Gold Mines), which has given both companies a much brighter future in this state. However, if we look out over the next 6-8 years, there isn't much growth on the horizon. This doesn't mean that these stocks aren't investable. In fact, they are outstanding companies, and they are quite reasonably valued at current levels. However, if an investor has wanted the benefit of owning a large-cap and diversified producer with an attractive dividend yield, they've had to sacrifice on growth.
Fortunately, following the amalgamation of Kirkland Lake and Agnico Eagle, this does not appear to be the case anymore. This is because Agnico Eagle ("Agnico") has the potential to offer meaningful production growth and production growth per share, given that it has a very robust pipeline and meaningful organic growth at existing mines. While it's not easy to forecast 6-7 years into the future, I see the possibility that Agnico Eagle could produce up to 4.5 million ounces in 2029. Assuming I'm correct, this would translate to a ~4.1% compound annual production growth rate (33% total growth rate), dwarfing the sector's growth rate and direct peers. Let's take a look at where this growth should come from:
Growth (Existing Mines)
Within the existing portfolio, Detour Lake is expected to steadily ramp up to more than 850,000 ounces per annum, while Macassa's annual production is projected to grow to 400,000+ ounces (FY2021: production ~210,000 ounces). Elsewhere, Kittila appears to have production upside to ~290,000 ounces per annum with a mill expansion to 2.35 million tons per annum. Meanwhile, Hope Bay has the potential to more than double its production profile to ~275,000 ounces per annum if the operation can be optimized. This growth at these four assets is partially offset by lower production at Fosterville, which I have assumed will produce ~375,000 ounces from 2023-2028, with upside to this production profile if the company can make a new high-grade discovery.
The below chart is very preliminary and based on my best estimates, and it shows that Agnico's annual production could grow from ~3.4 million ounces in 2022 to ~4.5 million ounces in 2029. This growth path is relatively straightforward, in my view, with growth at Detour Lake, Hope Bay, Macassa, Kittila, and Goldex (processing Akasaba West material), offsetting a slight decline in production from Fosterville and Canadian Malartic. For those unfamiliar, Fosterville is being right-sized and processing slightly higher volume at lower grades (albeit still industry-leading grades), while Canadian Malartic is transitioning underground, where it will be a high-grade but lower volume operation.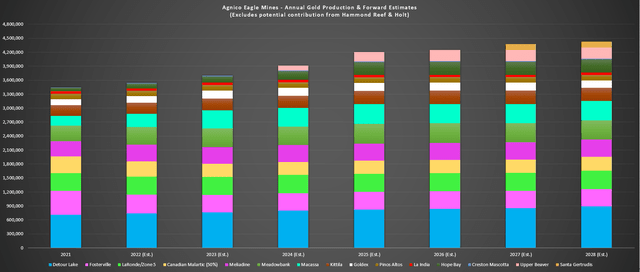 Under my assumptions, I have baked in zero upside in production at Fosterville but I have assumed that Canadian Malartic [CM] will increase production to 600,000 ounces per annum in 2028 (~300,000 ounces attributable to Agnico). This is based on the fact that the resource here continues to grow and now sits at more than ~15 million ounces on a 100% basis. Agnico is actively hunting for additional material to utilize excess mill capacity, both at Odyssey and separate from Odyssey.
CM has nearly depleted its main open pit after more than a decade of operations for those unfamiliar with the asset, and the future is Odyssey Underground. The transition to underground means that the mill will be processing one-third of the volume (~20,000 tons per day) but at more than twice the average grade. Therefore, production will decline slightly beginning in 2025.
However, given the fact that the CM resource is growing rapidly, it's possible that the CM Partnership could look at sinking a second shaft to utilize a portion of the excess ~40,000 tons per day of capacity at the mill. Given that this was a very high-volume operation, the mill was built to handle over 55,000 tons per day. Due to the CM resource growing at a torrid pace (East Gouldie alone holds ~7.5 million ounces), it would make sense to increase mining rates later this decade to pull forward ounces, especially considering that the mill is hungry for excess material.
Even if we assume an incremental 15,000 tons per day is processed at an average grade of 2.1 grams per ton gold in 2029 by sinking a second shaft, this could boost production from ~530,000 ounces to ~860,000 ounces per annum. Under my assumptions, I have assumed a slight lift in production in 2028, benefiting from the processing of incremental lower-grade material and slightly higher grades than envisioned in the mine plan, with growth to 800,000+ ounces (100% basis) in 2029, which I don't think is overly ambitious.
It's worth noting that the ~4.5 million-ounce production profile I have forecasted in 2029 does not include any upside from Holt, and it does not include any upside from Hammond Reef. It does assume production from Santa Gertrudis (~125,000 GEOs), Upper Beaver (~230,000 ounces per annum), and Hope Bay (~280,000 ounces per annum). Importantly, this growth can all come from within the existing portfolio, so Agnico does not have to make any major acquisitions like Kinross (KGC) just did to execute its growth plan.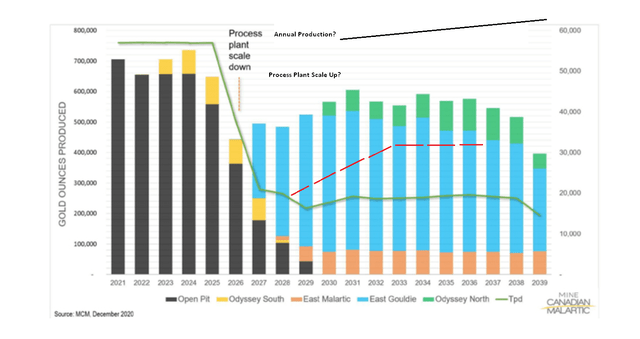 Given the significant free cash flow the company is generating, this can easily be funded internally. Notably, at the same time as this growth is occurring, it's possible that Agnico could look at opportunistic share buybacks. While this has not been confirmed, it wouldn't be unusual given that this was one of the levers that Kirkland Lake used to grow its per-share metrics, buying back shares in weakness to reduce its share float. To summarize, just from within the existing pipeline and current mines, Agnico appears to have significant growth, and most importantly, production growth per share.
If we compare this with Barrick and Newmont, the difference is night and day. This is because neither Barrick nor Newmont have meaningful production growth on the horizon and are working to simply replace reserves and, if possible, grow production 10 – 12% over the next decade vs. 2022 levels. In Agnico's case, it looks like there's ~33% production growth looking out to 2029/2030. Finally, I'd be remiss not to note that both companies have a track record of focusing on exploration and building significant value for shareholders through the drill bit.
Based on what I would expect to be a very aggressive exploration budget, investors should also expect to see growth in reserves per share. As shown below, this exploration certainly provides significant upside to the production profile in the case of another major discovery, with Agnico having five of the top 30 mines (plus the top two) from a reserve grade standpoint, with Upper Beaver potentially being #6. So, owning Agnico is not only owning a high-margin producer with a track record of production growth per share but with the bonus of a major discovery given the very well-endowed mines the company is constantly drilling on with an aggressive budget of ~$250 plus million per annum.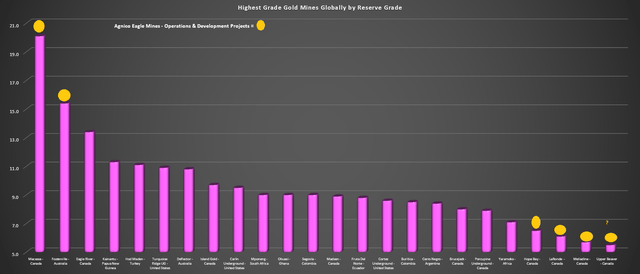 Organic Growth (Non-Operating Portfolio)
Outside of the existing portfolio, though, is where meaningful growth also lies, assuming new projects are brought into production. The highest priority project appears to be Upper Beaver in the Kirkland Lake Camp, which should add over 150,000 ounces per annum by 2025, and more than 200,000 ounces per annum once in full production. In my view, this gold-copper asset does not get enough credit, especially from investors that frowned on the merger. This is because this asset in Agnico's (pre-merger) development pipeline should have strong margins based on its copper by-product credits, and the grades here in recent drilling have been phenomenal. A few highlights from the past year are as follows:
18.2 meters of 8.7 grams per ton gold, 0.81% copper
7.8 meters of 11.1 grams per ton gold, 1.02% copper
8.2 meters of 11.3 grams per ton gold, 0.17% copper
15.6 meters of 5.9 grams per ton gold, 0.87% copper
6.8 meters of 8.8 grams per ton gold, 0.00% copper
9.4 meters of 88.8 grams per ton gold, 0.20% copper
While not representative of the average grade of all intercepts released, these are all very impressive hits and well above the current reserve grade of 5.43 grams per ton gold and 0.25% copper.
As shown below, Agnico Eagle is drilling holes through both zones (Porphyry: green, Footwall: yellow), and according to Agnico's technical team, the recent intercepts from the Footwall Zone have allowed the company to reinterpret the zone strike, with a possible connection up-plunge with an untested gap from KLUB21-163W12. The company is also encouraged by the results it's seeing from the Porphyry Zone, with a high likelihood that a chunk of inferred resources will move into the indicated resource category.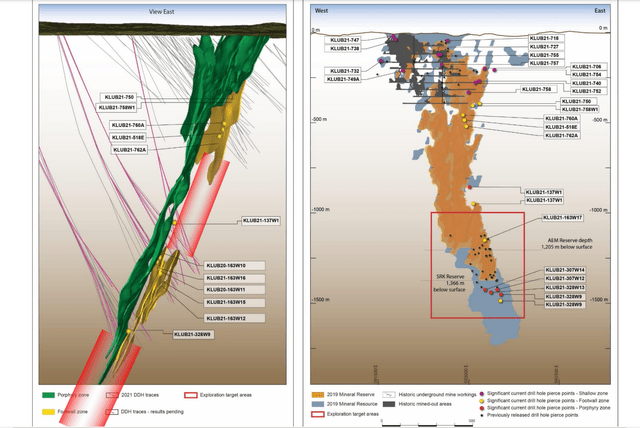 As it stands (year-end 2020), Upper Beaver was home to ~1.4 million ounces of gold reserves at 5.43 grams per ton gold (plus ~20,000 tons of copper). This is backed up by an additional ~1.82 million ounces of gold resources (Measured, Indicated & Inferred) at an average grade of nearly 5 grams per ton gold. However, it looks like the resource/reserve base should grow meaningfully. Plus, there's the possibility for slightly higher grades than expected if we continue to see the high-grade intercepts that Agnico has been reporting over the past year at this project.
Based on Queenston Mining's 2012 Preliminary Economic Assessment, the plan was to process 2,000 tons per day, translating to an average annual production profile of ~120,000 ounces of gold per annum and ~5.3 million pounds of copper. I would imagine that Agnico Eagle will explore something closer to 4,500 tons per day, if not higher, which should boost the production profile to well over 200,000 ounces per annum. While mining and processing costs are obviously stale, being a decade old, Queenston assumed cash costs of $386/oz net of by-product credits over the life of mine. This should be a very high-margin operation with a much higher copper price (which will boost copper credits) and a higher throughput rate.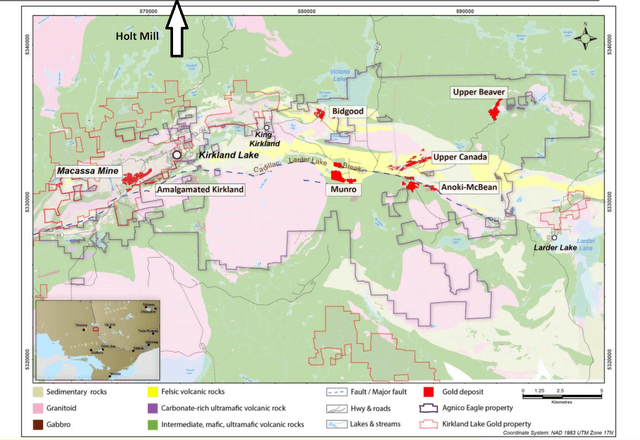 For those unfamiliar, Upper Beaver lies in the Kirkland Lake Mining Camp, east of Macassa and northeast of Upper Canada. Within a 100-kilometer radius of this camp, Agnico has two mills (Holt & Macassa) with one in operation (Macassa) and a total processing capacity of ~5,200 tons per day. However, there are multiple ore bodies, including Macassa, Upper Canada, Upper Beaver, and Amalgamated Kirkland. Not only does Amalgamated Kirkland [AK] boost resources right next door to Macassa and existing underground development, but it also gives Agnico a possible extension to the ultra-high grade South Mine Complex (Macassa Mine).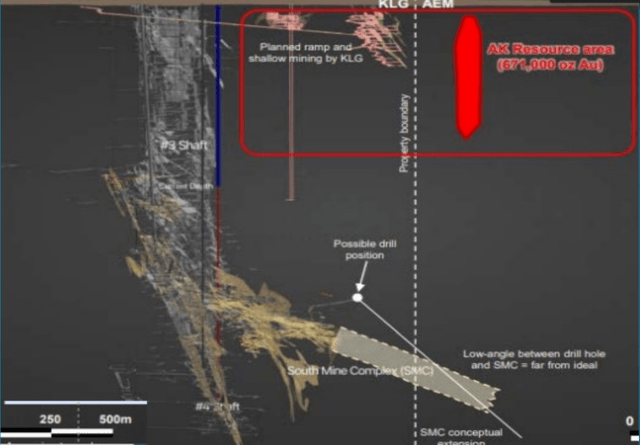 This is a huge deal for Agnico, and it's similar to what we've seen with Barrick Gold and Newmont, which joined forces in Nevada to create a much more robust operation. This is because it has provided for more direct routes to processing facilities to truck material and has allowed for a better understanding geologically, with both teams sharing their analysis. In Agnico's case, there are multiple benefits here.
These include exploration upside onto pre-merger Agnico land (AK Property), reduced development costs if the idle Holt Mill can be utilized to process Upper Canada material, and quicker development at Upper Beaver (assuming a positive development decision). This is because while Agnico's shaft team is busy at Kittila (Finland), Kirkland Lake (now Agnico) can move its team just 10 kilometers to the east to begin shaft development at Upper Beaver.
With 3,000 tons per day of idle capacity to the north of the camp at Holt and a high likelihood that Agnico will green light Upper Beaver, Agnico could have somewhat of a mining complex on its hands here long-term. This is because there's the possibility for 750,000 plus ounces of total production between Upper Beaver, Macassa, and material trucked to the Holt Mill. Currently, the Holt Mill is being given little to no value in Agnico's valuation, while it doesn't look like Upper Beaver is getting much recognition as well, based on the current share price of $47.90.
Finally, while a lower priority, Agnico has a massive development project in Hammond Reef, which was scooped up in the Osisko 1.0 acquisition in 2014. Hammond Reef is a higher-capex project, but it could pack a punch, with the potential to produce over 270,000 ounces per annum at all-in sustaining costs near $1,000/oz. Meanwhile, Santa Gertrudis may be smaller and in Mexico, but it's a solid little high-margin project.
Currently, Santa Gertrudis is home to an open-pit resource of ~850,000 ounces of gold (oxide) at grades above 1.0 gram per ton gold. It has an additional ~880,000 ounces of gold and 6.5 million ounces of silver that could be extracted in an underground mining scenario, with a gold-equivalent grade of ~3.80 grams per ton. This project could support the production of 125,000 ounces per annum at costs below $850/oz. With limited drilling at this project, given that Agnico has had bigger priorities, I would argue that there is meaningful resource growth ahead for this asset as well. Notably, the project benefits from historic heap-leach operations and has pre-stripped pits, haul roads, water sources, and buildings already in place.
Valuation
Looking at the chart below, we can see that Agnico has historically traded at ~12.1x cash flow. This makes sense given that it's a producer that has steadily paid dividends, operates out of the best jurisdictions, and has a track record of steady production growth per share and disciplined capital allocation. However, despite joining forces with another high-margin producer with an incredible track record that has led to further diversification, better costs, and clear synergies, Agnico Eagle trades at just ~7.7x cash flow based on estimates of $6.20 in FY2022 cash flow per share.
If Agnico were to simply re-rate to its historical multiple when it was a great company, but not the unrivaled company that it is now, the stock would trade at ~$75.00 per share. This represents material upside from current levels, especially when you factor in that the stock is paying a ~2.90% dividend yield. Finally, it's worth noting that if Agnico does pursue share purchases, we're going to see meaningful growth in cash flow per share in 2023. This is because it should be a year where COVID-19 headwinds are in the rearview mirror, Macassa has ramped up to well above 300,000 ounces per annum, and the company could benefit from a lower share count.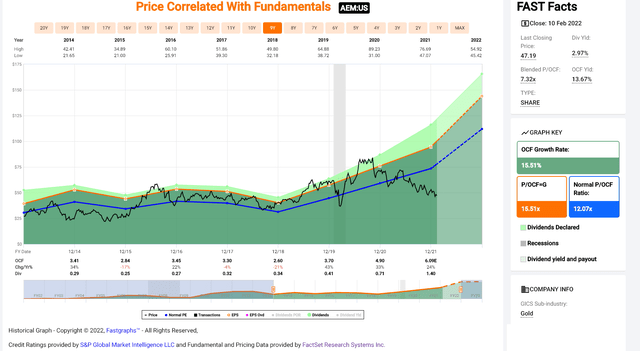 So, what are the catalysts for a re-rating?
When it comes to upcoming catalysts, there are too many to count, but these are just a few:
Detour Lake Updated Life Of Min Plan – more ounces, Saddle Zone, optimization work to fill in gaps in the mine life
Upper Beaver Study – 180,000 – 240,000 ounces per annum at attractive margins
Exploration results from 30+ drills at Malartic/Detour Lake combined
Exploration results from Fosterville
Exploration results from all other properties
Possible announcement of share buy-backs?
Discussion regarding possible integration of AK Property
Drilling a possible extension to the South Mine Complex at Macassa
Macassa & Detour Lake seeing meaningful production growth
Discussion regarding Hope Bay optimization
One issue with cheap stocks is that if there isn't a catalyst for a re-rating, the stock can stay cheap. As the above list hopefully conveys, numerous catalysts here should help with a potential re-rating, so Agnico is anything but a value trap or a cheap stock with no catalysts to propel it higher. In fact, this opportunity in Agnico Eagle looks as attractive as when Kirkland Lake Gold sat at below $34.00 per share last year when I made the stock one of my largest positions.
So, with a rare mix of growth, industry-leading margins, value, a solid dividend yield, an outstanding track record, and a favorable ESG rating given Agnico's lower water consumption/GHG emissions per ounce produced, the new Agnico checks every box and then some. The other major box that Agnico checks, of course, is that it has ~95% of production coming from Tier-1 jurisdictions. This means that investors don't have to worry about waking up to negative surprises, which we've seen with other companies like Fortuna Silver (FSM) and Hochschild Mining (OTCQX:HCHDF).

With the gold sector, the most hated it's been in years, it's understandable that many investors have thrown in the towel since there's only so much beating that some investors can take. Having invested in the sector for 15 years, the gold space typically makes durable bottoms and begins violent bull markets just when the majority have finally thrown in the towel, bottoming not on pessimism like the general market but on complete despondency. It looks like we are finally nearing this point for the sector, and with Agnico trading at ~15x FY2023 earnings estimates with a ~2.9% dividend yield, it's hard to find a better value in the space. Hence, I continue to accumulate the stock on weakness, and I see the stock as a Strong Buy below $48.00.