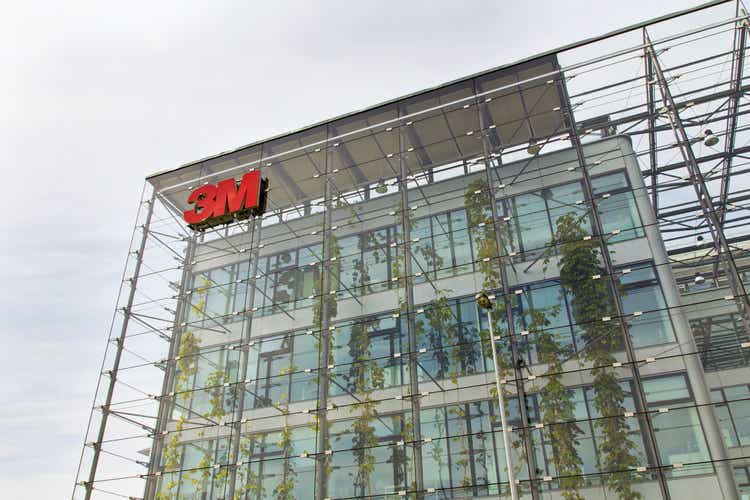 3M Company (NYSE: MMM) shares are down about 25% over the last six months after cutting its full-year earnings view on supply chain cost inflation due to higher raw material and labor costs. And then in Q4 2021, the company reported a year-over-year decline in net income from $ 1.41B to $ 1.34 billion, partially driven by below-average revenue growth of 0.3% due to supply chain constraints negatively impacting its safety and industrial as well as its transportation and electronic segment. And then litigation became the primary focus.
Litigation Overview
Additionally, litigation related to PFAS contamination and military ear plugs continues to plague the company. PFAS broadly encompasses chemical compounds and toxic substances that have polluted soil and groundwater, and manufacturing of such materials in 2002 and officially ended chemical usage entirely by 2008. As a result of lawsuits, both domestically at the individual state level and internationally, 3M has been forced to make settlement payments and investments, also cash outflows, to pay for investigations and cleanup.
In 2018, 3M had an $ 897M settlement, in 2019, the company recorded a $ 449M pre-tax charge, and in 2020, reported a $ 17M pre-tax charge. As of FY21, other environment liabilities related to PFAS were $ 412m. Back in 2021, SA author, Stephen Simpson, stated that PFAS related liabilities could cumulatively reach $ 20 + billion. Barclays and RBC analysts estimate liabilities could tally up to $ 10B and $ 20B- $ 25B, respectively.
Then moving on to the earplug liabilities, a federal jury awarded two army veterans $ 110 million after suffering from ear damage. JPMorgan's Stephen Tusa provided a simple math scenario that could involve up to $ 1.5 trillion in liabilities related to the 285K cases. However, we can throw this figure out because 3M will appeal, in which settlements are almost always reduced, and in this case, it will likely be a significant amount. Morgan Stanley estimates $ 2 billion in losses in a best-case scenario, $ 14 billion in a base case, and $ 53 billion in a worst-case scenario.
So far, 3M itself has not provided enough disclosures other than its minor environmental liability in its filings. To estimate, however, between PFAS and earplug liabilities, 3M could realistically be facing anywhere between $ 12 billion at the low-end, $ 45 billion at mid-point, and $ 78 billion at the top.
Finally, Bair Hugger healthcare product liabilities were reinstated back in mid-2021 and a court date was set for December 2022. 3M believes the claims are without merit and so far the company has assigned no liability.
A move by Johnson & Johnson to isolate injury lawsuits related to talc liabilities in a separate legal entity called LTL Management that would file Chapter 11 on its own. The goal is to significantly reduce liabilities, and that could have positive implications for 3M down the road. Nonetheless, I think it's prudent for investors to remain cautious and consider that most of these payments are likely to occur.
So how much has the market discounted already? Although litigation has always been present, the Street began signaling concerns in July 2021. Off that level, 3M's market cap has already fallen by $ 31B.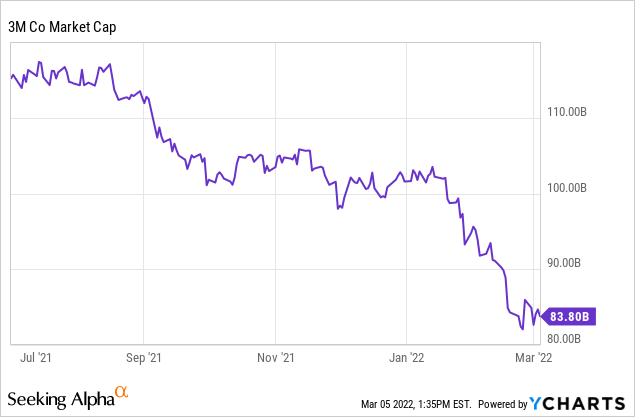 In either case, the market has already priced in the best-case scenario and part of the base case. In other words, the delta of the lost market case and the worst-case scenario of $ 78 billion leaves another $ 40 billion in downside. That would indicate a still steep decline off of today's valuation, but again, this scenario reflects a very dark scenario on appeals, case consolidation, and final settlements. Put together, it seems that most of the litigation risk has already been discounted by the market.
Operational Outlook
3M generated decent organic growth in the HSD across its four primary divisions, albeit against relatively easy comps in 2020. In Q4, safety & industrial and transportation & electronics growth buckled which led to deleveraging in operating margins. The main causes were demand declines related to respirators, masks, and supply chain costs, as well as semiconductor challenges.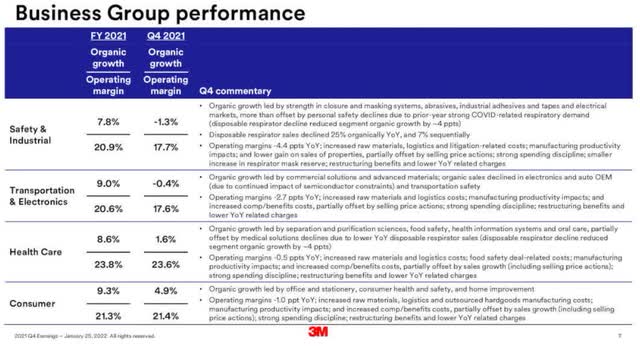 Over the last decade, 3M has delivered solid EPS growth from $ 6 / share to $ 10 / share in 2021. 3M guided for 1% -4% sales growth in 2022 and EPS of $ 10.15- $ 10.65 / share, or $ 10.40 at mid-point, or about 6.9% growth annually. It's possible that sales growth could be softened as mask mandates have eased in recent weeks.
Based on guidance, EPS growth will decelerate towards 2.7%, which also accounts for the significantly lower rerating in the company's multiples.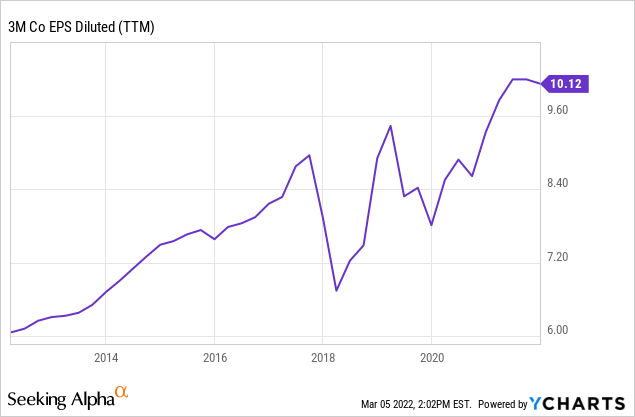 The one positive factor, however, is that in the last five years alone, 3M management has been known for being slightly conservative in their projections. In fact, between 2017 and 2021, cumulative EPS estimate beats totaled $ 1.74, and the very well continue here. According to FactSet insight data, almost three-quarters of S & P500 companies cited inflation on their Q4 earnings calls. Yes, that does translate to higher costs, but most companies have been raising prices and will keep doing so as long as demand persists.
The final graphic shows expected profit margins for Q1 2022, where three or four sectors indicated declining margins, four were flat, and five indicated better margins. However, industrials were in the breakaway category showing the highest improvement in margins.
Also, remember that 3M indicated that they are actively raising prices in all four of their segment categories. Yes, there was modest organic weakness in Q4 for two segments, but overall, all four posted solid growth. Some of 3M products are discretionary in nature, but overall they are less price elastic relative to most consumer goods. In other words, I'd fully expect that 3M can continue raising prices and will therefore maintain margins.
Valuation Overview
When looking at EPS results that are anticipated for this year, 3M runs well below the rest of the pack on a forward P / E basis of 24x.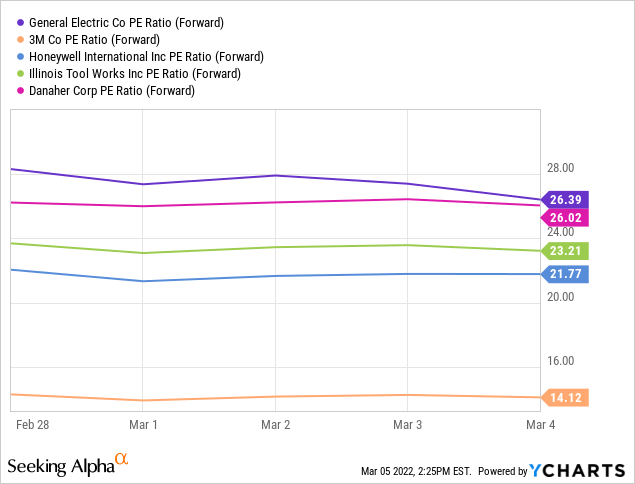 However, remember that we will need to adjust for lawsuit liabilities for a better apples-to-apples comparison. To repeat the previous three scenarios, under the bull, base, and bear cases, 3M would have 15x, 20.8x, and 26x FY22 P / E ratios, respectively. In other words, 3M is floating between 38% undervalued to 8% overvalued versus industry peers.
Another important factor here is that 3M has embarked on deleveraging its balance sheet from $ 22 + billion in long-term debt in 2020 to about $ 17.4 billion today, and net debt has improved from $ 17.8 billion to $ 12.6 billion. This retirement of debt also contributes positively to their bottom line with lower net interest expenses.
The Street also estimates that 3M will be approaching about $ 11 EPS and $ 12 EPS in the following two fiscal years, which translates to forward P / E multiples of 13x and 12x, respectively. Keep in mind that these four comparable operators are estimated to report HSD EPS growth, which is consistent with what 3M guided for. In effect, 3M appears artificially cheap due to its litigation overhang.
For those who are more in the stock for income, now also presents an interesting opportunity, as the dividend yield has returned to near-record highs. Shares could fall further from here, but it would likely require incremental negative developments that are severe in nature: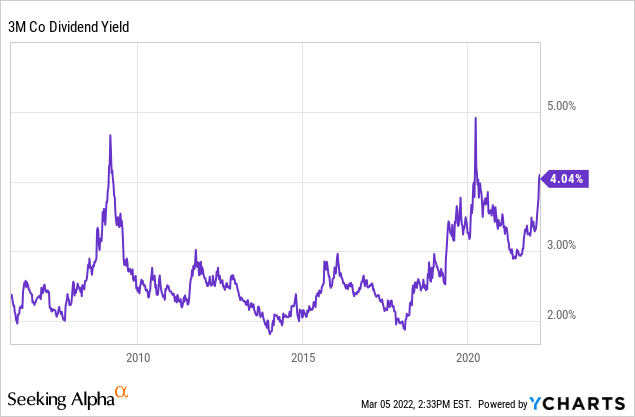 Key Risks
Like any investment, there are a number of risks associated with investing in MMM shares, which include but are not limited to the following:
An economic recession occurs due to macro-related risks, which would crush demand in its end markets.
Litigation costs are higher than expected, closer to the worst-case scenario outlined above.
Supply chain cost inflation persists longer than expected and / or management cannot offset such costs with pricing power, which limits future earnings growth.
Bottom Line
3M is a dividend king, which has increased its dividends every year for the last 50 years, and currently offers a dividend yield of ~ 4%. Once a decent portion of the litigation is behind the company, and / or once its debt deleveraging is finished, management should be able to accelerate share buybacks at more opportunistic prices. If shares rerate positively before then, management will likely devote more capital to dividend hikes. Overall, 3M appears to be somewhat undervalued assuming the worst-case scenario does not unfold for the company and it may contain its liability exposure. Otherwise, the operational outlook on balance looks decent. What do you think? Let me know in the comments section below. As always, thank you for reading.
If you enjoyed this article and want more direct access to my research and ideas as well as the chance to chat with me and review my two model portfolios (dividend and long-only total return stocks) and my overall investing strategy, please note that I am launching a Marketplace Service called Equanimity Research in April. I am very excited to foster a community of like-minded investors. There will be a considerable discount for early annual subscribers. More details coming soon.