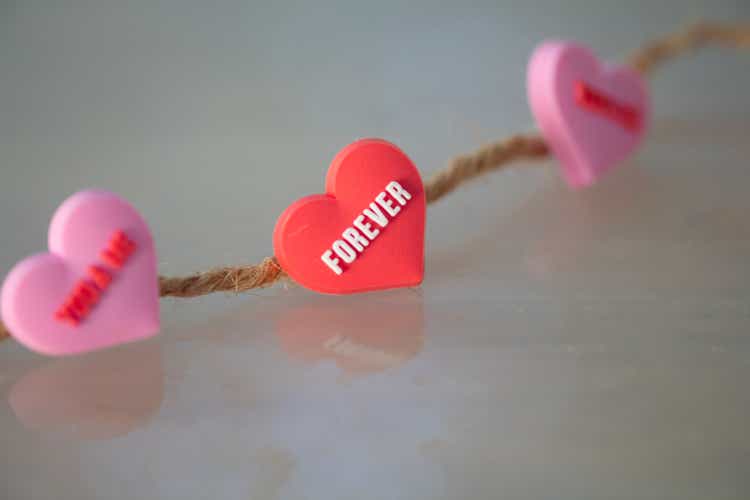 It's difficult to regard anything in the markets as stable this year. Some, no doubt, would even argue it's impossible. And for proof, they'd point to charts like this one of the S&P 500 year-to-date (as of close of day on Feb. 22):

And this one of the Dow:

And this one of the Nasdaq:

And when you check out the one-month charts, they look even worse, with volatility galore. We're clearly not in the roaring 2020 or 2021 anymore. Welcome to 2022, which – from a stock market perspective – makes me think of that Match.com commercial from I believe, December 2020.
Talk about a clever compilation!
It began with a caption, "11 months ago," and the sound of a guttural sigh. The noise, we soon see, is coming from a devil. But not just any devil.
Satan himself.
Sitting on his throne, he's clearly feeling listless until his phone buzzes. He's got a match! And gosh, but does he like her picture.
Pan to the next scene. It's a deserted park on a rainy day under a stone bridge where the two have chosen to meet: Satan and the year 2020.
"So where are you from?" she asks him.
"Hell," he replies.
"Me too," she says.
Cue Taylor Swift's "Juliet" song, and the mayhem begins.
It Might Feel Really Hot, but the Markets Aren't Even Close to Being in Hell
2020 feeds Satan hot peppers into a deserted stadium. They work out together in a deserted gym. He offers her popcorn in a deserted theater – though she declines since she's busy recording the whole thing on her phone.
There's toilet paper theft and dumpsters set on fire. And the last scene is of Satan, saying, "I just do not want this year to end" before she snuggles into his arms.
"Who would?" she replies as the sky lights up with meteors burning through the atmosphere, presumably destined to wreak even more destruction on the hapless earth.
Like I said, it was an extremely clever effort from Match.com – one that got people talking and, I assume, translated into positive profits.
Who wasn't craving more human interaction to some degree after everything 2020 threw at us? We'd been cooped up, socially distanced, scared, and exhausted for months and months and months.
But, hey, at least the stock market was going gangbusters by then!
This year, most of us are out and about again. We're booking vacations. We're counting down to the summer months. We're spending money on distractions and going out to eat again.
All while darker forces seem to cuddle with their new cutie, the markets of 2022.
I should probably take this moment to clarify that while the markets "make me think of that Match.com commercial"… that's not because they's exactly alike.
Despite how it might feel at the moment, things really aren't that bad for the stocks we know and love.
Blue-Chip REITs Are Presenting Some Pretty Price Points
I understand that watching your stocks diminish in price does not feel great. But do you know what does?
Watching your stock wish list become more and more of a reality.
As I've written before, there have been many real estate investment trusts (REITs) – and other companies – with attractive fundamentals and lousy valuations for months now: Neither a match made in hell nor one made in heaven.
We've been due a correction of at least 10% for a while now – which the S&P 500 officially hit on February 22 and the Nasdaq already entered earlier.
So, no, this is not the end of the investing world as we know it. It's a natural part of investing life. There will always be ups and downs, and we should be ready to take advantage of both.
Look, most blue-chip REITs – the kind you can and should own for decades – do not trade on the cheap. People are willing to pay a premium for companies they know will last like that.
In my latest book, The Intelligent REIT Investor Guide, I devote more than one chapter to blue-chip REITs. But here's one paragraph that should do at least a decent job of explaining their value:
"Exceptional access to capital and a deep understanding of one's market gives blue-chip companies a better ability to consistently expand. But it also puts them in prime positions to recognize and take advantage of once-in-a-lifetime deals."
With those two factors alone, investors gain an exceptional amount of stability – the kind that can even get us through years like 2022 is starting out as.
In fact, a market like 2022 is starting out as can be the exact right market to pick up blue-chip REITs to keep for the next decade and beyond.
3 Blue-Chip REITs I'll Own For Life
Jared Woodard of BofA Global Research said (in a Barron's interview),
"… Dividend growth has consistently outpaced inflation since 1950" (as it did in the 1970's and the 1980s) …
And our view at iREIT on Alpha is that dividend stocks should be a significant part of an investor's portfolio, especially REITs that are considered "blue chips" with high quality ratings.
Furthermore, now that the war in Ukraine is underway, we are doubling down on quality, recognizing that the cream always rises to the top.
Here are three high-quality blue-chip REITs I will own for life…
Realty Income (O)
Our first "life time" Blue-Chip REIT is likely one the most recognizable names (and my largest holding) Realty Income (O), aka "The Monthly Dividend Company."
O is one of 65 companies in the elite S&P 500 Dividend Aristocrats Index and has generated 4.4% compound annual dividend growth rate since 1994 (and 114 dividend increases).
I consider O a beast and should soon become one of the largest REITs in our coverage spectrum. Last year the company merged with Vereit and has since integrated its portfolio successfully, which includes a spin of the office assets into Orion (ONLY).
More recently the net lease dynamo announced its venturing into the gaming sector by acquiring Encore Boston Harbor (Encore) Resort and Casino for $ 1.7 billion (5.9% initial cap rate).
I explained recently, how this acquisition will widen the moat and generate more dividend power in the years ahead.
Yesterday the company said that its AFFO per share increased 5.9% to $ 3.59, compared to the year ended Dec. 31, 2020, while management kept its guidance for 2022 adjusted FFO per share at $ 3.88- $ 4.05 vs. consensus of $ 3.94.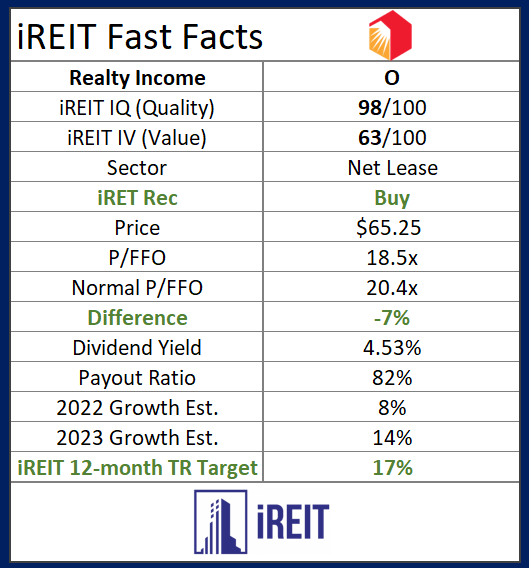 O is also trading at a margin of safety. Shares are now trading at $ 65.25 with a P / AFFO of 17.9x (three-year average is 19.3x) and dividend yield of 4.5%. We maintain a BUY and we forecast shares to return 17% over the next 12 months.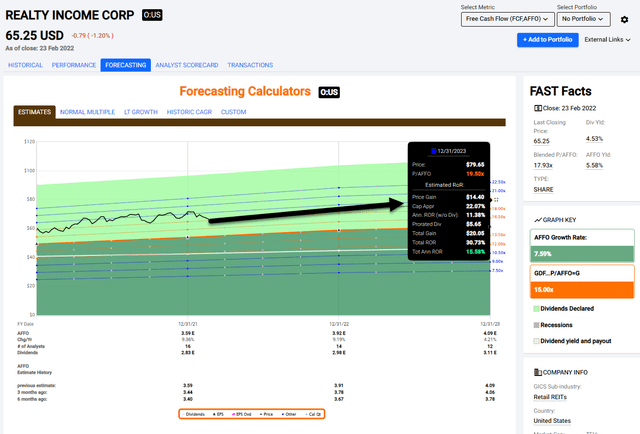 American Tower (AMT)
Next on the list is American Tower, a dominating technology-based REIT pick that owns 219,000 tower sites and is one of the most diversified REITs. Analysts expect AMT to grow this to 235,000 global telecom towers by 2025.
AMT is well positioned to take advantage of multiple sector tailwinds in the coming years. In the US alone thanks to connected devices, the so-called "internet of things" or IOT, mobile connections are expected to grow 8% annually through 2026. With mobile data generated per device expected to grow by 26% annually.
Acquisitions remained strong for AMT in 2021. For the full year 2021, the company spent approximately $ 20.8 billion to acquire nearly 33,000 communications sites and other communications infrastructure, globally.
FFO in Q4 was $ 2.10, falling short of the consensus of $ 2.30 but did increase over Q4-20. Analysts forecast AMT to grow AFFO per share by 8% to 10% over the next few years.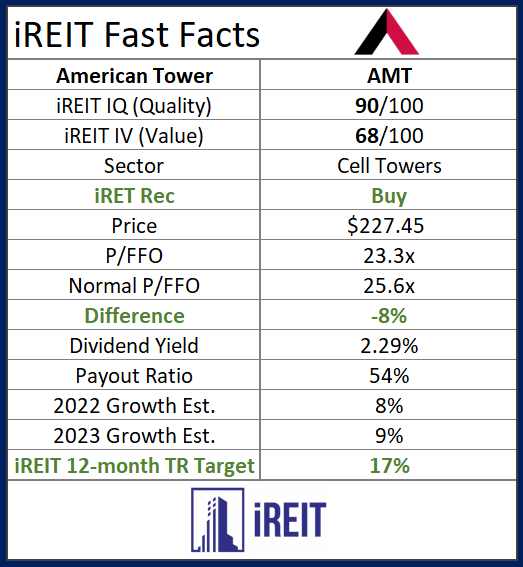 AMT is another definitive BUY; shares are now trading at $ 227.45 with a P / AFFO of 23.3x (three-year average is 23.1x) and the dividend yield is 2.3%. We forecast shares could return 17% over the next 12 months.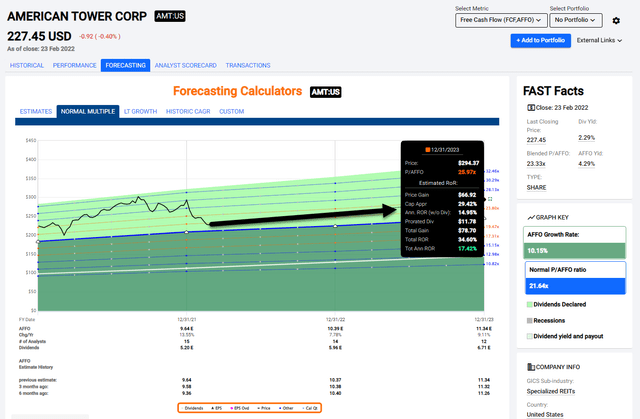 Digital Realty (DLR)
My last blue-chip for life pick is Digital Realty, a global data center landlord that owns a portfolio of 280 data centers in 26 countries and 6 continents.
Like the other two REITs referenced – O and AMT – DLR has a "wide moat" model defined by a rock-solid cost of capital structure and significant scale. In a recent article I explained the $ 8.4 billion Interxion deal – which gave DLR a solid foothold in Europe – was completed in March 2020, right when the shutdowns spurred increased demand for bookings on the REIT's cloud computing capacity.
These days, DLR seems to be turning its sights to India as its next big growth market, and in December, it announced the successful listing of Digital Core REIT as a standalone publicly traded company on the Singapore Stock Exchange.
Another one of DLR's global initiatives – which was announced on Jan. 3 – is the definitive agreement to acquire a 55% stake in Teraco, Africa's leading carrier-neutral colocation provider. This will immediately establish Digital Realty as the leading colocation and interconnection provider on that high-growth continent.
In Q4-21 DLR's core FFO per share was up 4% year-over-year and up 1% sequentially, driven by solid operational execution and cost controls. In 2021, core FFO per share was up 5% year-over-year. Analysts for DLR are forecasting 4% AFFO growth in 2022 and 7% in both 2023 and 2024 as this company continues to deliver strong dividend growth.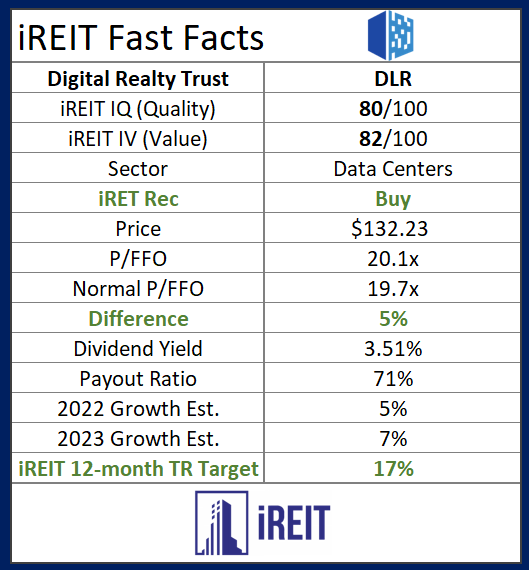 DLR is a definitive buy right now as shares are trading at $ 132.23 with a P / AFFO of 21.0x (3-year average is 22.5x) and the dividend yield is 3.4%. As viewed below, we forecast shares to return around 17% annually.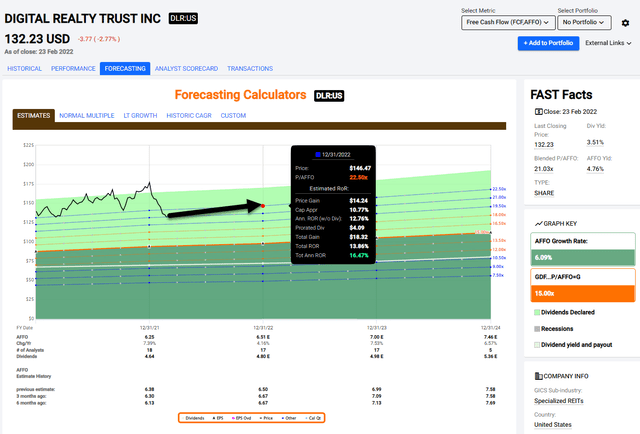 In Closing…
I posted on LinkedIn that I'm reading a book, Value Investing by Bruce C. Greenwald and Judd, that I would recommend to anyone here on Seeking Alpha. In the Preface the co-authors explain,
"The first is to look for opportunities where nobody else is looking – staying away from the crowds that are overpaying for glamor. Instead, value investors want statistically cheap, ugly out-of-fashion companies."
In Chapter One the co-authors explain that,
"… Every investor needs a process for managing risk that this investment adds to (ore deduces in) the portfolio.

What is the appropriate size of the position within the portfolio?

Does it move in tandem with other holdings, or does it have a low or even negative correlation with them? "
As I plan for my future retirement (still years away) I want to hold a large position in all three of the above-referenced REITs.
More than likely, I will own them for the rest of my life, unless there's a material change in fundamentals. They should help me sleep well at night and provide my family with security in the form of growing income and prices appreciation.
They are my portfolio anchors, and I will always look to maintain a healthy allocation regardless of recessions, pandemics, wars, or other uncertainties. But always remember – and I quote the same co-authors:
"A strategy of buying securities only when their market prices are significantly below the calculated intrinsic value will produce superior returns in the long run."