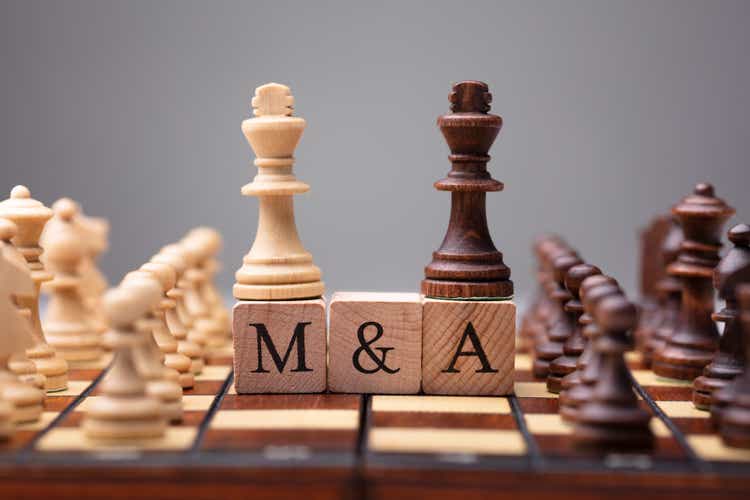 Last year, REITs (VNQ) set a new record for M&A activity. The deal volume rose to ~ $ 150 billion in a single year, which is huge when you think about it. Just to mention 10 examples from the top of my head:
Realty Income (O) bought out Vereit (VER)

VICI Properties (VICI) bought out MGM Growth Properties (MGP)

Blackstone (BX) bought out WPT Industrial (OTCQX: WPTIF)

Blackstone also bought out QTS Realty (QTS)

Blackstone also bought out Preferred Apartment Communities (APTS)

Industrial Logistics Properties Trust (ILPT) bought out MNR Real Estate (MNR)

Brookfield (BAM) bought out the office division of WashREIT (WRE)

KKR (KKR) bought out CyrusOne (CONE)

American Tower (AMT) bought out CoreSite Realty

Wheeler REIT (WHLR) is buying out Cedar Realty Trust (CDR)
And there were many others …
In almost every case, the acquiring firm had to pay a hefty premium to complete the transaction, resulting in large gains for shareholders.
This huge volume of M&A and the pricing of the deals demonstrates what we have been saying for the past 2 years: REITs are cheap.
They are undervalued relative to what investors can get in the private market, and therefore, it often makes more sense for REITs and private equity firms to acquire other REITs. Even when paying a 20% + premium, REITs are often still cheaper than private properties.
This means that M&A is likely to continue in 2022, and you can profit by buying companies that are likely to become buyout targets.
At High Yield Landlord, we closely follow M&A and regularly invest in potential buyout targets because these situations can add substantial alpha to your portfolio.
In case of a buyout, we then get to quickly realize upside, and if the buyout never occurs, these are still typically great long-term investments in most cases. Here is what we typically look for:
A REIT that owns highly desirable assets in a hot sector

It has a shareholder-friendly management and / or it is targeted by activists

It is small in size relative to its potential acquirers

Its valuation is discounted relative to the private market value of its assets
Currently, we own 10 such REITs in our Portfolio at High Yield Landlord, and in today's article, we highlight 2 of them that are especially likely to get bought out in 2022.
Right now, the multifamily segment of the market is hotter than ever, and this is particularly true for apartment communities that are located in strong sunbelt markets like Austin, Texas: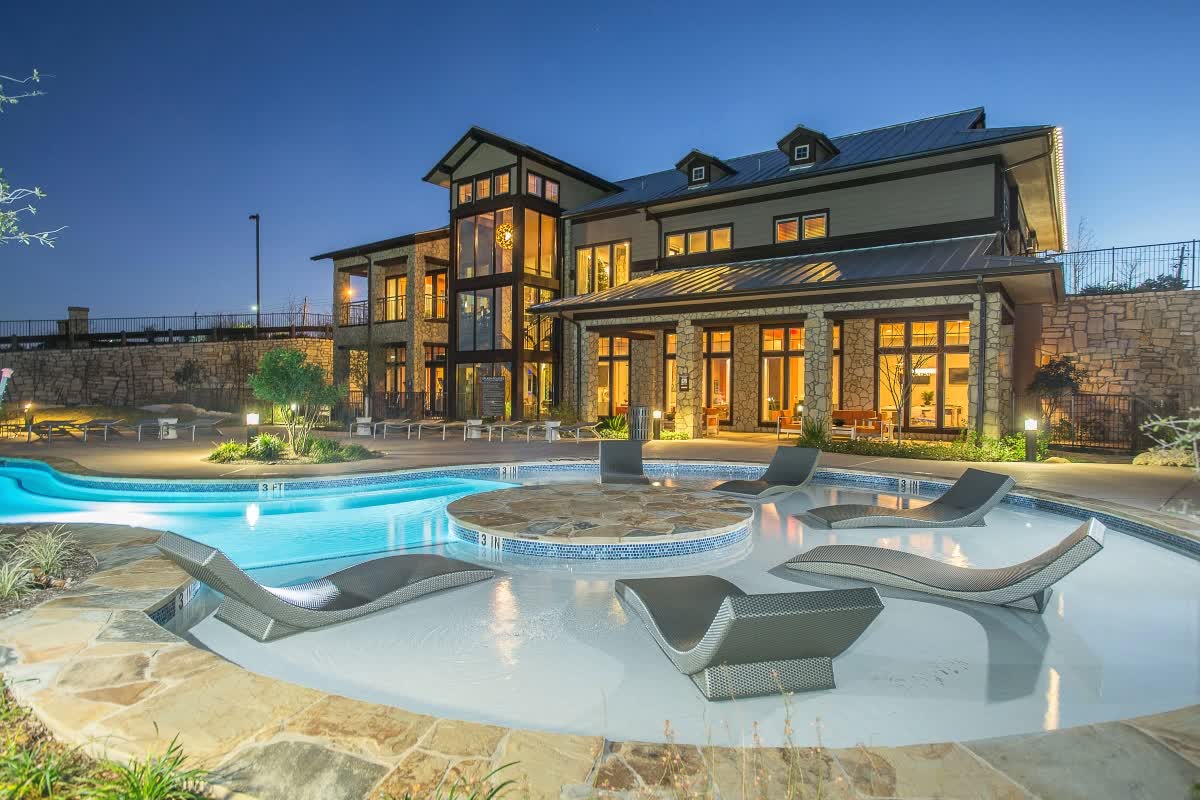 The pandemic greatly accelerated the migration from expensive coastal markets to cheaper and business-friendlier sunbelt markets. Businesses and people go where they are treated best, and right now, sunbelt markets have a lot to offer with materially lower taxes, business-friendlier regulations, and overall, the most value for your money.
As a result of all these people moving there, rents are now rising at the fastest rate in 15 years and cap rates have compressed as low as ~ 3% in many sunbelt markets. The demand is far greater than the new supply and as we explain in a recent report at High Yield Landlord, we expect this situation to remain for at least a few more years.
Not surprisingly, the apartment REITs that own properties in sunbelt markets have become highly desirable and most of them have repriced at expensive valuations. Just take a look at the share price performance of Mid-America (MAA), Independence Realty (IRT), and Camden (CPT) since the beginning of the pandemic: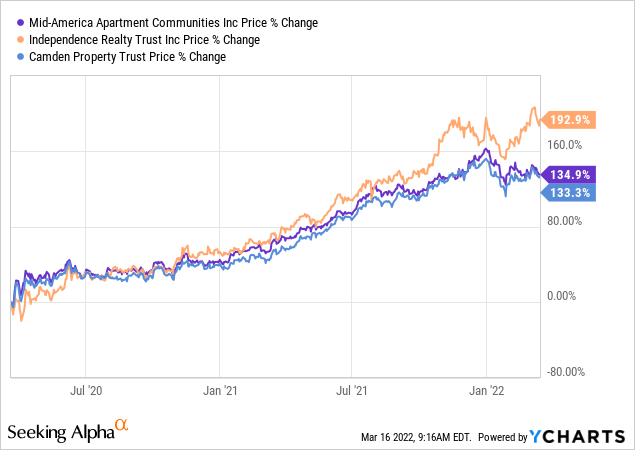 But one exception remains and its name is BSR REIT. It is a small Canadian REIT that mainly owns properties in rapidly-growing Texan markets: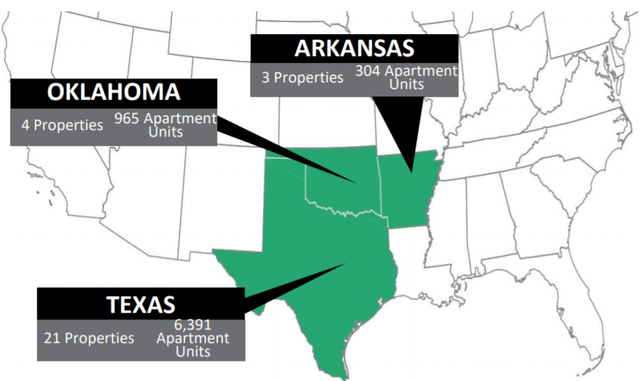 We think it is a likely buyout target because:
Its properties are highly desirable: The majority of BSR's properties are located in Dallas, Austin, and Houston, Texas. These are some of the most popular sunbelt markets right now. Rents are growing at 15% + year-over-year and the rapid growth is expected to continue. Any apartment REIT that lacks sunbelt exposure would gladly add these assets to its portfolio to rapidly boost their Texan exposure, which would boost their future growth and improve their market sentiment.
It has shareholder-friendly management: BSR's management are the largest shareholders of the company, and they pay themselves very reasonable salaries. Therefore, they should be very well-aligned with shareholders and motivated to maximize returns.
Its valuation is discounted relative to the private market value of its assets: Since BSR is a Canadian REIT, it must release estimates of its net asset value per year each quarter. In the last quarter, its NAV reached ~ $ 20 per share, up 61% in 2021. Priced at $ 21, it may seem that there is no discount, but in reality, we think that its NAV per share is already today at closer to $ 22 , and by the end of 2022, it is likely to be in the $ 25-30 range if rents keep growing at this pace and cap rates compress further.
With that in mind, we think that BSR is a likely buyout target. It owns highly desirable assets, it has a shareholder-friendly management, it is fairly small in size and its valuation is discounted.
A REIT like AvalonBay could pay a large premium to NAV and it would still likely benefit the company by improving its market sentiment as it expands more rapidly into strong sunbelt markets.
If a buyout never occurs, we are happy to hold for the long run. BSR pays a ~ 3% monthly yield and its NAV is growing at an unusually rapid pace.
Whitestone REIT (WSR)
WSR is similar to BSR REIT in the sense that it owns highly desirable assets in strong sunbelt markets, it is small in size, and its valuation is discounted.
But there is one main difference.
WSR invests in service-oriented shopping centers instead of multifamily communities. However, these are mainly recession-proof since they focus mainly on essential services like grocery, barbershops, gyms, nail salons, dry-cleaning, restaurants, etc.
These centers are serving neighborhoods in strong sunbelt markets that are enjoying rapid growth, and as a result, they also enjoy upside in rents and property values, just like apartment communities.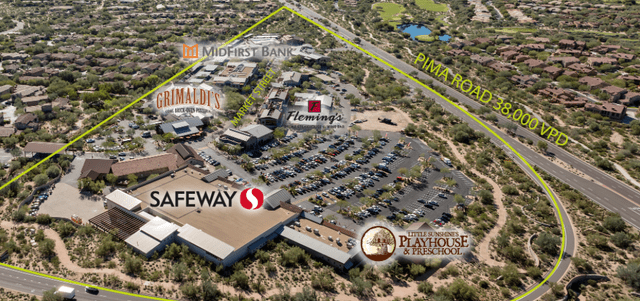 We think that its portfolio of assets would be highly desirable for a large range of potential buyers. Not just REITs, but also private equity. It is also the right size with a $ 640 million market cap and it is one of the few sunbelt-focused REITs that's still barely getting back to pre-covid levels, despite significant property price appreciation over the past 2 years: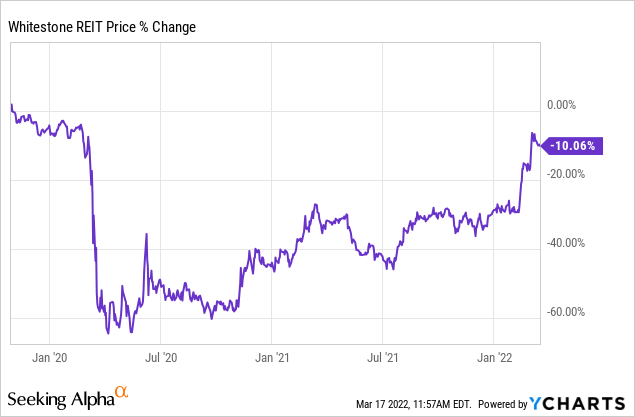 But until recently, the company was poorly managed by a CEO who was overpaid and self-interested. This greatly lowered any sort of M&A and caused the company to trade at a material discount to peers.
This issue was recently resolved as the CEO got fired for cause and the board of directors / new CEO promised to do what's best for shareholders going forward to maximize value. Here is what the new CEO commented on in the most recent conference call:
As part of the seriousness related to our commitment to be good stewards of invested capital, we believe that the recent and decisive actions taken by the Board of Directors these past two months, a firm theirs and management's focus to unlock and build shareholder value. With the new leadership in place, we expect to build on our 2021 progress as we move through 2022 to maximize returns from our existing portfolio.
I think this is a clear hint for potential acquirers that WSR is open to discussions. A larger shopping center REIT like Kimco (KIM) could buy out WSR at a good premium and the transaction would still be accretive to its FFO and NAV per share. It would also likely improve its market sentiment / expand its earnings multiple as it integrates higher growth sunbelt assets into its portfolio.
If a buyout never occurs, we would still expect 20-30% upside, and while you wait, you also earn a near 4% dividend yield.
Bottom Line
Many REITs are undervalued today and it is resulting in a lot of M&A activity. If you know how to select likely buyout targets, you can realize significant and rapid profits. We have repeatedly profited from M&A over the past years, and it has been a great source of outperformance for our portfolio.
To give you one example: In late 2020, we invested in an Australian real estate investment firm called APN Property Group (APN). Back then, it was priced at a steep discount to our estimate of fair value, owned highly desirable assets, and had very high insider ownership. About 7 months later, it was bought out, earning us a 75% total return. Of course, part of it was luck, but you can create your own luck by investing in this type of situation.
BSR or WSR could be the next buy-out targets in our Portfolio, but even if they are not, we would expect them to perform well over time. That's why we invest so heavily in such opportunities.